Are you looking for a free ecommerce admin dashboard template for your online store? If so, you've come to the right place. In this blog post, we'll introduce you to some of the best free ecommerce admin templates currently available online.
What is an admin dashboard template?
An admin template is a predesigned template that can be used to quickly create a user interface for an administrator area. These templates often include common functionality, such as a menu bar, a set of tabs, and a search bar. They also often include custom widgets that can be used to quickly add functionality to the administrator area. There are a number of different admin templates available, both for free and for purchase. Some of the most popular admin templates include bootstrap framework Foundation, and Material Design. These templates are all responsive, meaning they will automatically resize to fit the device's screen size.
Why use admin templates for ecommerce?
When it comes to administering an ecommerce store, having a well-designed admin template is key. Not only does it make your job as the store administrator easier, it also makes the store run more smoothly. Let's take a look at some of the reasons why using an admin template for ecommerce is a good idea:
1.Ease of use.
An admin template that is designed specifically for ecommerce will be much easier to use than one that is not. The layout and features will be tailored to managing an online store, which means you'll be able to do everything you need to quickly and easily.
2.Streamlined workflow.
An ecommerce-specific admin panel design template will also help to administer your online store. Depending on the template you choose, you could have one or many sections to fill in, and each section will allow you to manage a different aspect of your store. For example, you may have one section to manage your categories, another to manage your products, and a third to manage your customers.
3.Security features.
Many admin dashboard templates will include special features to help you protect your online shop and data. For example, Maintain Sitemap allows you to create a map of your site's URLs and add filters to determine which URLs should be visible on-site. This can help you avoid customers getting stumble stricken when they click on a link.
4.Easier product development.
Using an admin dashboard template means you can design your store with the features and functions you need to develop a successful product. These features can include: product categories, keywords, bids, deals, and coupons. You can then use the results of your auctions to determine which products are priced correctly.
5.Helps you scale your business.
As your business grows, you'll need to upgrade your infrastructure—your computers, your telecom connections, and your storage space. Upgrading your store will be easier with an admin template that allows you to add new features and functions as needed.
6. Automation.
No longer will you have to spend time entering data or performing repetitive tasks. With Automate, you can record keystrokes, make changes to your pricing, and run basic analytics on your store.
7.Cloud based reporting.
Generate sales projections for each of the weeks in the month, and see how your sales are growing compared to similar businesses in the same category.
8.Real-time analytics.
Track how your customers are interacting with your store. This will help you identify pageviews that are no longer generating sales leads. Find out which social media channels are driving sales.
9.Time & effort savings.
Using an admin panel template will save you time and energy on design, implementation, and maintenance.
10.Less stress.
With less stress, you'll be able to focus on growing your business—and enjoying the success that you build with it.
How to choose the right Free ecommerce Admin dashboard Template?
The right free ecommerce admin dashboard template for your business needs will be different for every business. It will depend on what type of business you want to start—what type of products you want to sell, how many customers you expect to serve, and how much time you'll be spending on the administrative work.
It's best to choose an admin dashboard template that allows you to add the features and functions that you need. Instead of being forced to choose between only a few options, you'll have the opportunity to choose from many different templates. This will give you the ability to change your mind if you find a better option in the future.
We hope you have found this roundup of free ecommerce admin templates helpful. Keep in mind that these templates are just a starting point, and you will likely need to customize them to fit the specific needs of your ecommerce store. But they can provide you with a great foundation on which to build.
Sneat – Bootstrap 5 HTML Admin Template
Sneat is the latest Free Bootstrap 5 dashboard that is developer-friendly, rich with features, and highly customizable. It has followed the highest industry standards to bring you the best Free Bootstrap 5 HTML Admin Template. It is fast and easy to use while being highly scalable.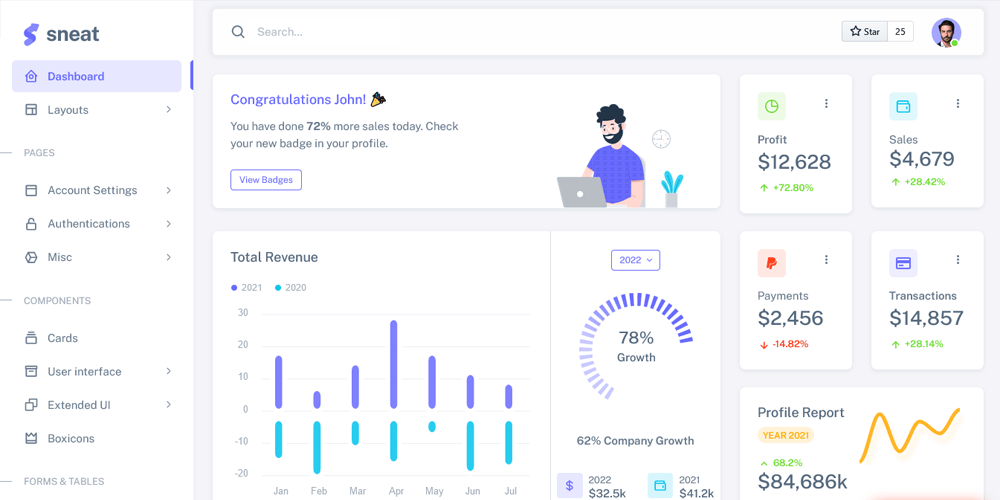 Chameleon Admin – Bootstrap Dashboard Template
Chameleon Admin Lite is a modern, responsive and free bootstrap 4 ecommerce admin template. It provides a rich and intuitive user interface, packed with features and widgets, to help you build powerful and sophisticated admin dashboards and control panels.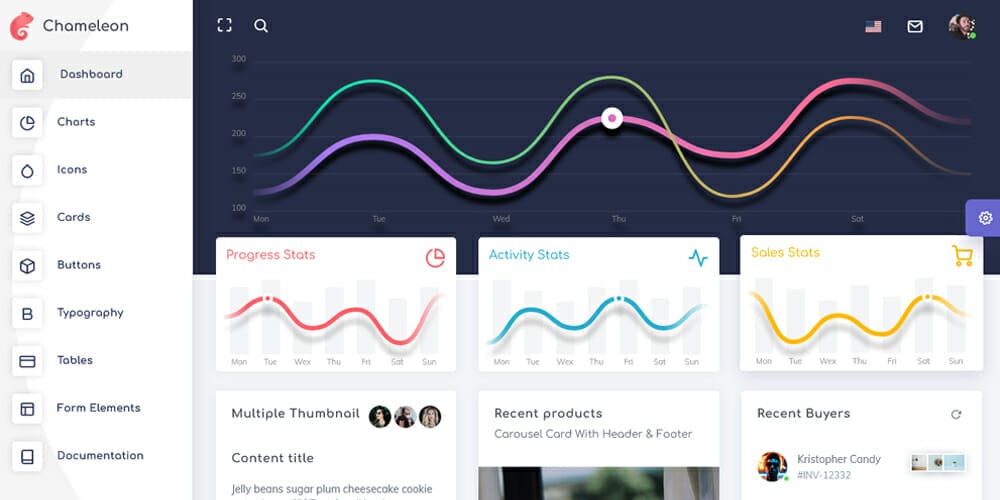 Dashmin Bootstrap 5 HTML5 Admin Dashboard Template
A bootstrap admin dashboard template that is minimalistic and free. It is easily adjustable and customizable to fit the needs of different users. This theme is also responsive, making it perfect for dashboard websites.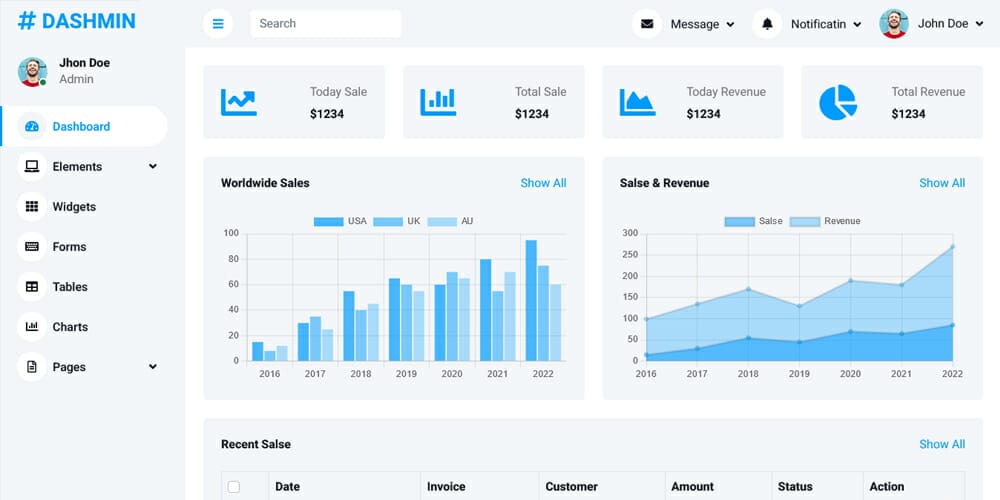 Corona
Corona Admin gives you the cool and sophisticated look of a website template that is both beautiful and easy to use. They are packaged with this Bootstrap 4 admin template with dozens of powerful features that are easy to customize and help you build the perfect website for your business. With Corona Admin, you can create a website in minutes, not hours.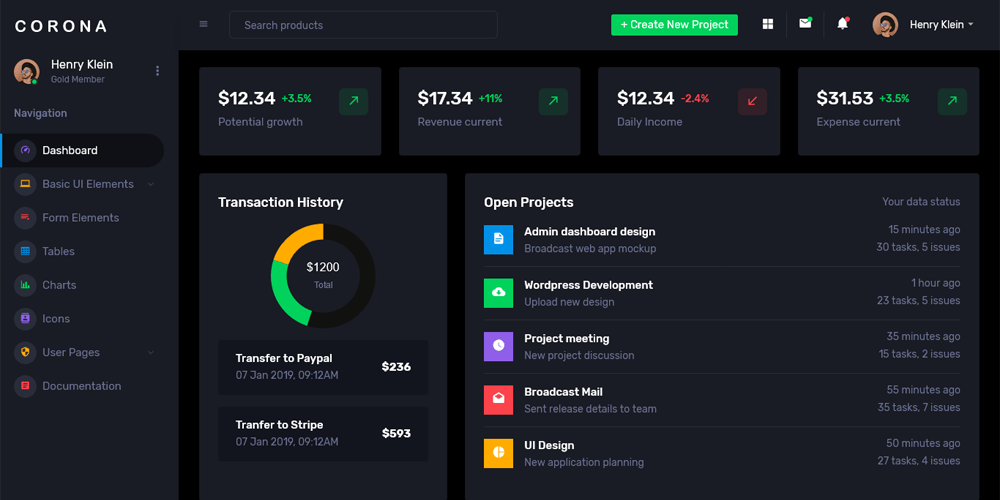 Nice Admin
NiceAdmin is more than just another admin dashboard template. It's a powerful tool for building beautiful, modern web applications and custom admin panels for your company. With its minimalistic and functional design, you'll be able to build an application that is clean, intuitive, and provides a frictionless user experience. Check out our demo.
Plainadmin – Bootstrap 5 Admin Dashboard Template
PlainAdmin is a free & premium Bootstrap 5 based vanilla JS multipurpose admin template that comes with – all essential dashboard components, pages, UI elements, charts, graphs and much more. .Responsive design, One-click demo import using one click import tool.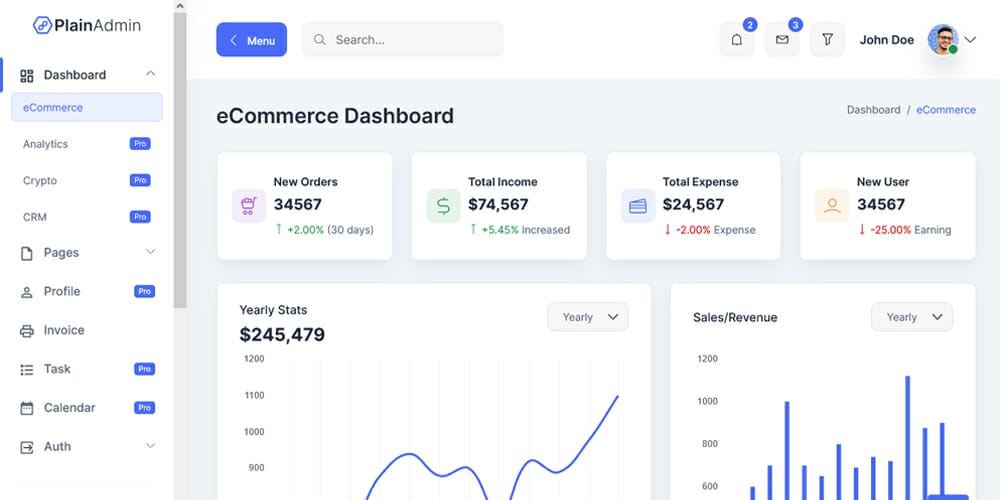 Purple Admin Template
Makes your admin experience more colorful and fun! Purple admin template has a unique and attractive design that makes your website or application more engaging. The colors are mild yet vibrant, which is soothing on the eye. The gradient colors go beautifully with the white background, giving your admin dashboard a refreshing look.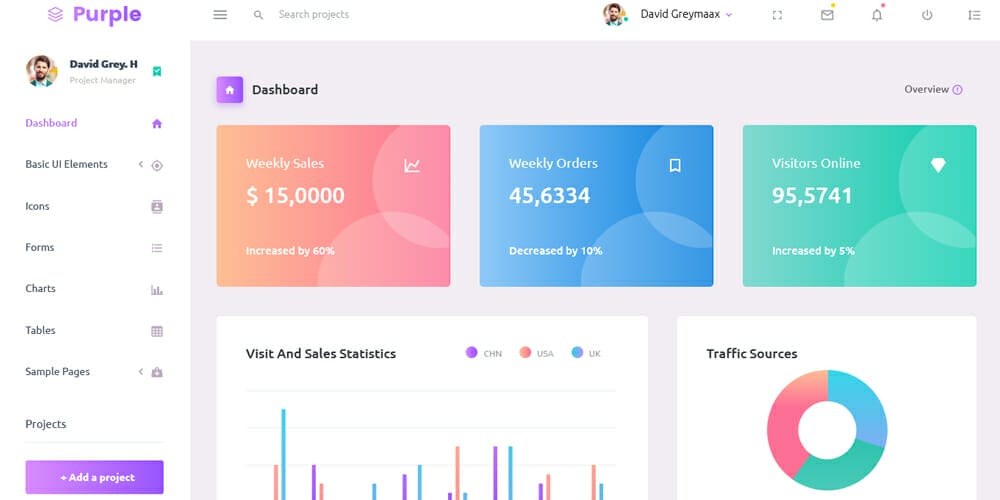 Azia Admin
Azia Admin is a free Bootstrap 4 dashboard template that you can use to speed up the development process of your website. It is built with mobility in mind and will work nicely on any screen size. With Azia Admin, you can quickly create your website with the huge number of UI components and sample pages available in Azia.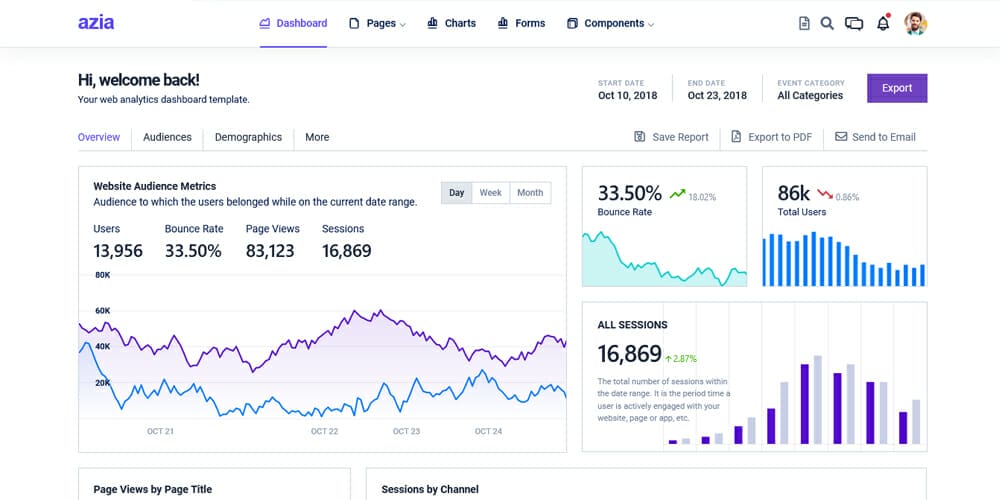 Portal
Build better web apps with the help of Portal. It's a free Bootstrap 5 admin dashboard template, designed with simplicity and modularity in mind. Portal is perfect for any kind of web app, from a CRM to a content manager. It's completely responsive, so you can use it on any device. Get started today: just download this ecommerce admin panel and customize it to fit your needs!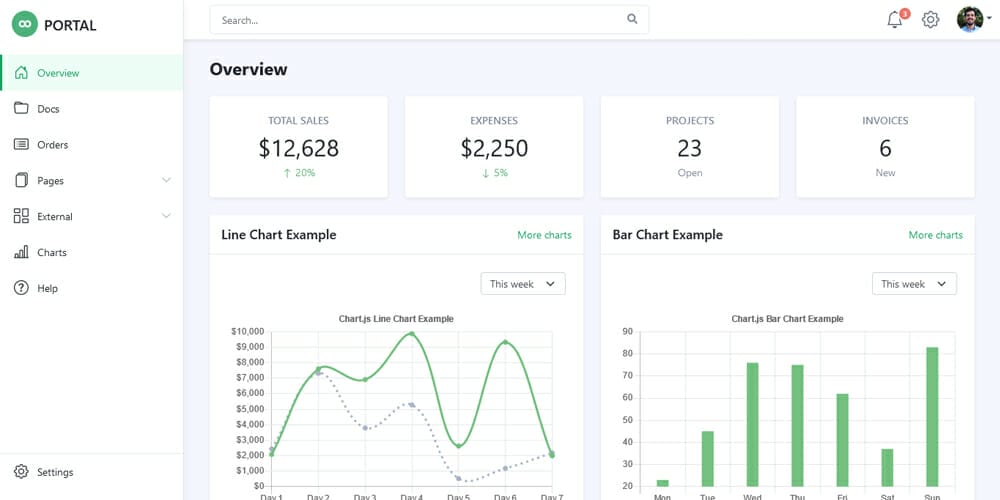 Shoppy eCommerce Admin Panel Template
Building an eCommerce website is not an easy task. If you want to make that process easier and more responsive, we highly suggest you consider Shoppy eCommerce. this template is clean, modern, and is fully responsive. With a few clicks, you can have a professional looking website up and running.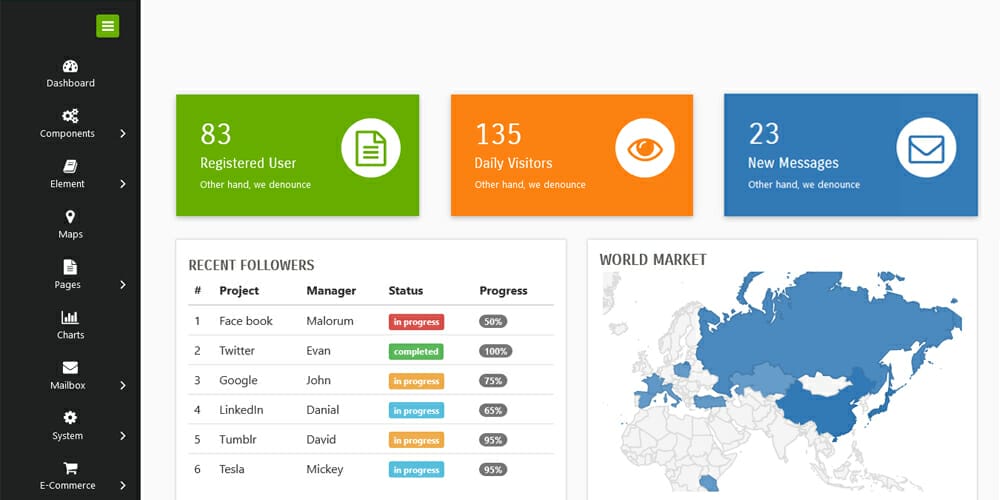 Gretong – E commerce Bootstrap Admin Panel
GRETONG is an E-commerce and Administration Panel that is customized to your needs. It is a dependable, value-adding, and responsive web development application that will be a great solution for your business.
Concept – Admin Dashboard Template
With Concept, you can start building your admin panel template easily, quickly, and with a beautiful design! You don't need to learn how to code or hire a developer. It's perfect for beginners who want to learn more about the industry. Concept is comprehensive and complete, with over 80+ pages, 100+ components and plugins, and 4 different dashboards.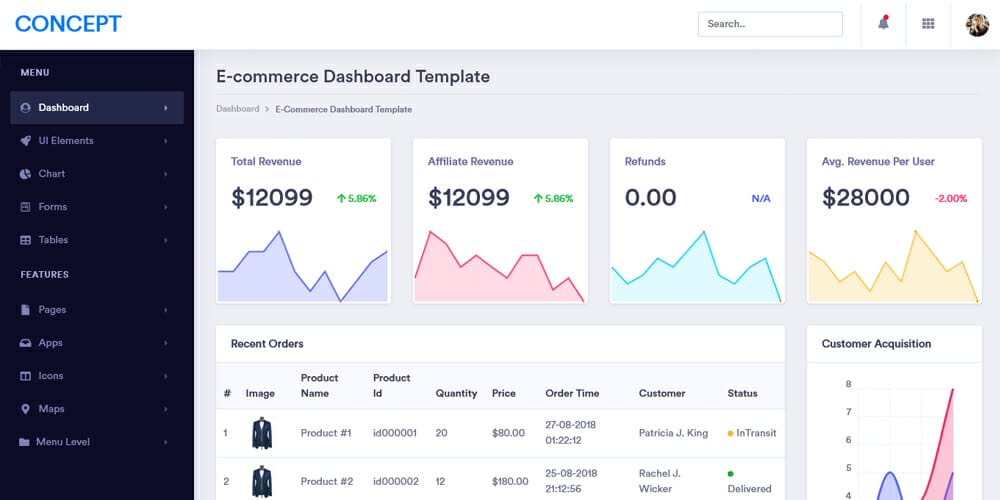 Quixlab
Quixlab is an HTML5 admin dashboard template that is completely responsive and fitted with all of the latest features and assets. This template also has a gradient style, charts, progress bars, fun fact counters, and many more features that make it perfect for any screen size, from smartphones to desktops.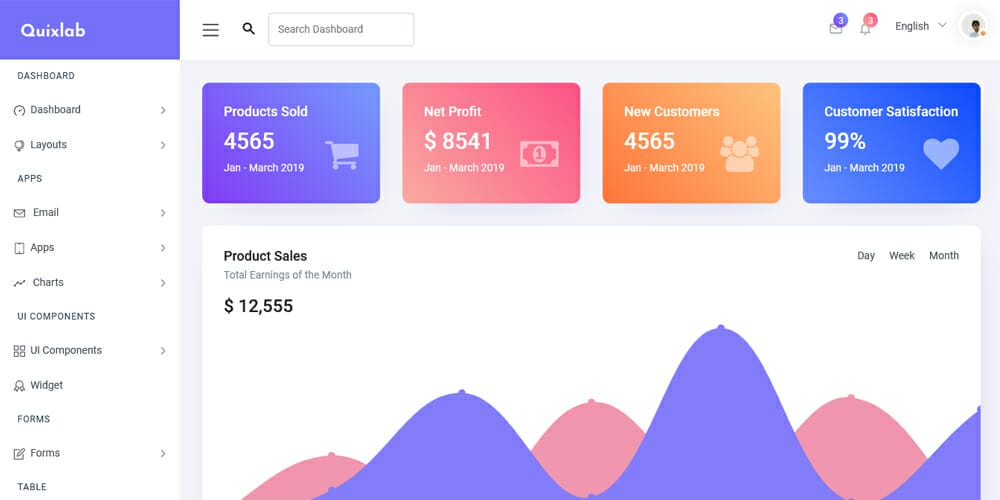 Mobio Solutions E-Commerce Admin Panel
Mobio is a clean, mobile-responsive admin panel template designed for ecommerce stores. It uses Bootstrap 4+ and has been coded to be SEO-friendly and touch-friendly, so you can start your ecommerce website faster.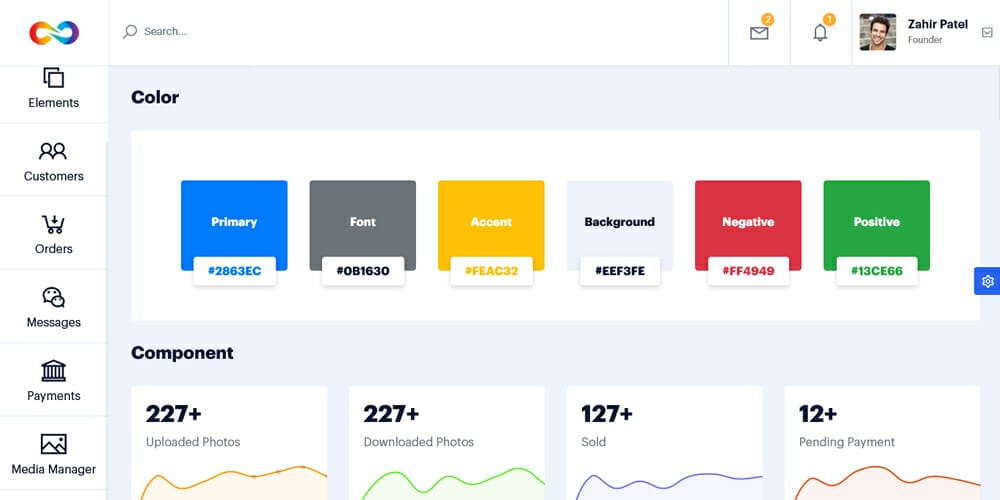 Matrix Admin
Enjoy the power of building an admin dashboard with Matrix Admin – a beautifully designed, responsive and free Bootstrap 4 HTML5 admin dashboard templates. Fully responsive, this theme includes all the features you need to build a great looking panel that your users will love.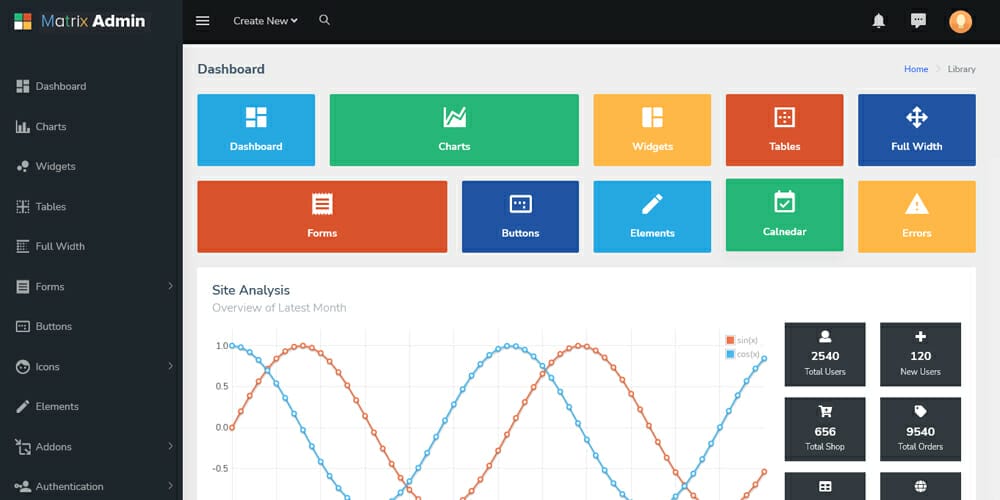 Product Admin
Your customers won't be the only ones who'll be impressed by your admin dashboard. Your colleagues and clients will be too. Make your product management a breeze with Product Admin's design and wide range of features. Get the difference – create an exceptional administration interface and provide a great user experience to your customers.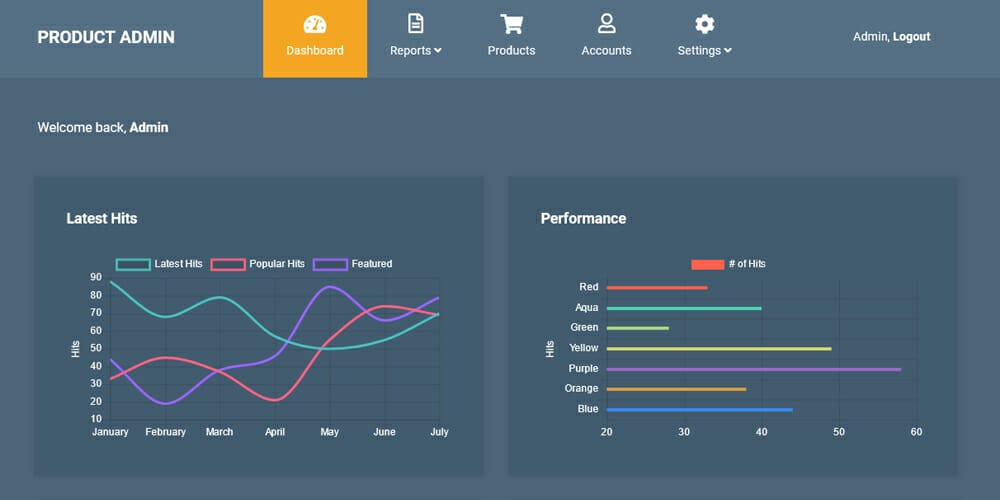 AdminPro
Introducing AdminPro – the best way to manage your data! We know how important it is to have a single view of all your data and everyone on your team, AdminPro to give you all the tools you need in a sleek, responsive dashboard. Break down barriers between departments with ease and reduce friction points by using our API to talk directly with our robust and scalable backend.
Notika – eCommerce Bootstrap Admin Template
Notika is a stunning eCommerce bootstrap admin dashboard template that you can use to build an admin backend for your self-hosted eCommerce store. It's been designed to help you increase conversion rates, make navigation more efficient, and boost customer satisfaction.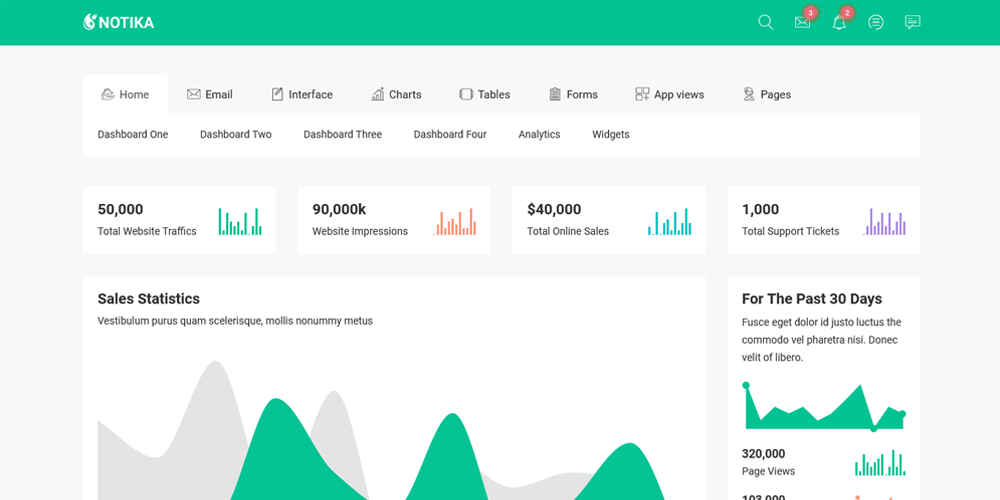 ElaAdmin
ElaAdmin is the perfect solution for any need in the modern web, whether you need a dashboard for your project's administrative interface or a CRM to manage your clients. It's easy to use, responsive, and just as powerful as it looks: with time-saving snippets and utilities, beautiful charts and dashboards, and an extensive set of apps.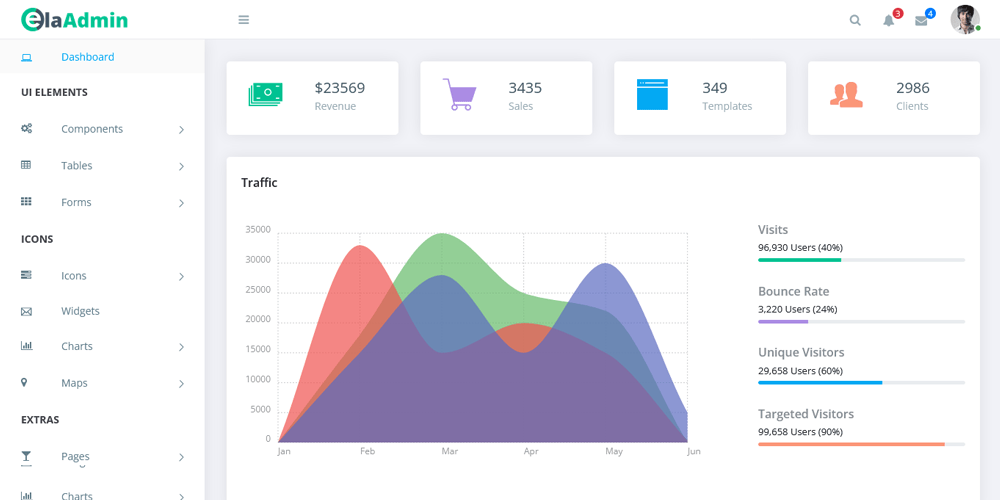 Startmin
Startmin is perfect for dashboards and admin panels, with a focus on clean, bold design, extreme functionality, and sleek animations. It's built of Bootstrap and includes a robust plugin system for customizing the UI and UX to match your project needs.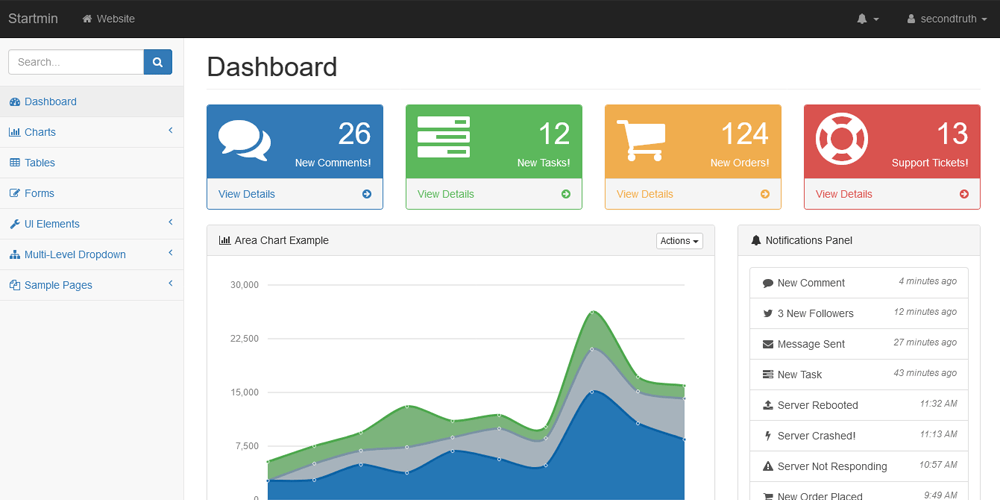 Moss Ecommerce Admin Template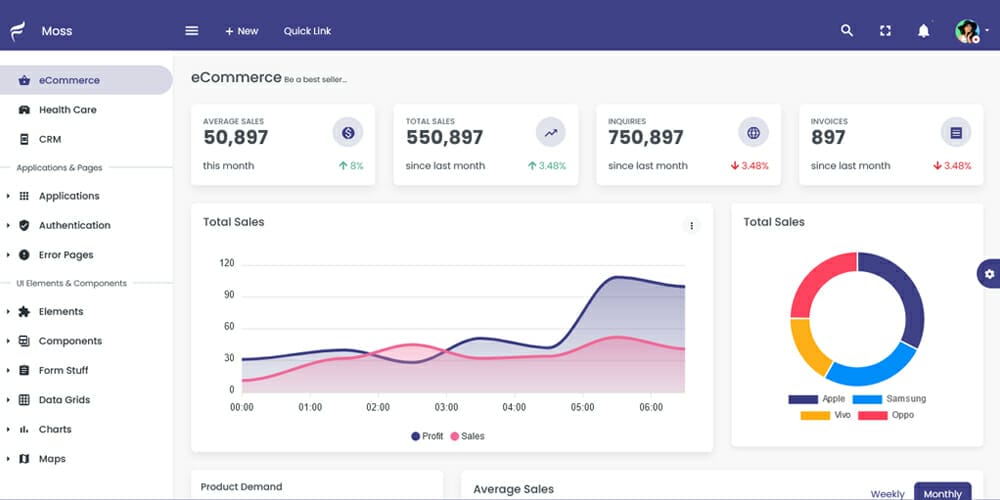 Visitors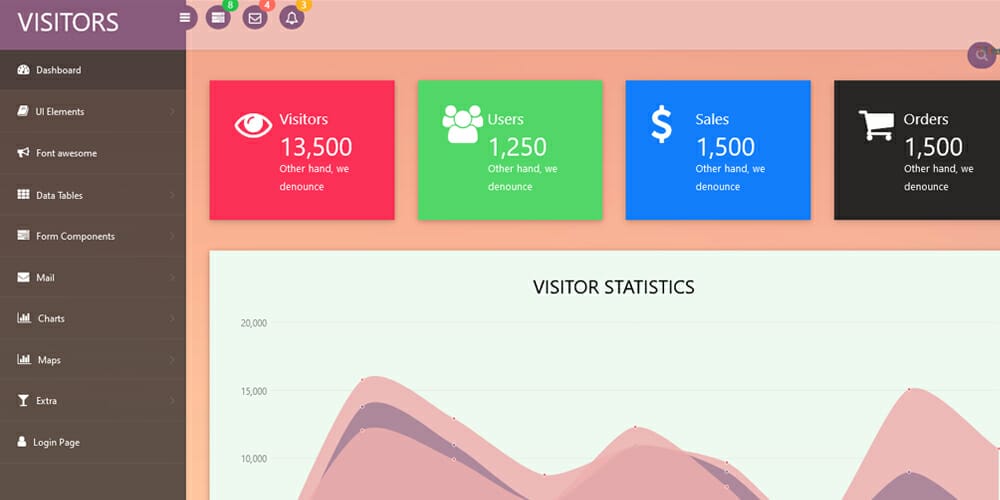 The post Best Free Ecommerce Admin Templates appeared first on CSS Author.