Kinsta has introduced a new service that allows you to host static websites on its servers and it's completely free to use!
Kinsta is one of the most reputable hosting providers in the world that specializes in managed WordPress hosting. In addition to their impressive WordPress hosting packages, Kinsta also offers many useful tools, such as DevKinsta, for web designers and developers, free of charge.
The new Kinsta Static Hosting service is the latest to join this growing free tools kit. This service allows anyone to host a static website on Kinsta servers for free. You can even use static site builders to setup a website within minutes. And it's perfect for setting up a simple portfolio or resume website for freelancers and professionals.
Let's dive in and see how Kinsta Static Hosting works.
What Is Kinsta Static Hosting?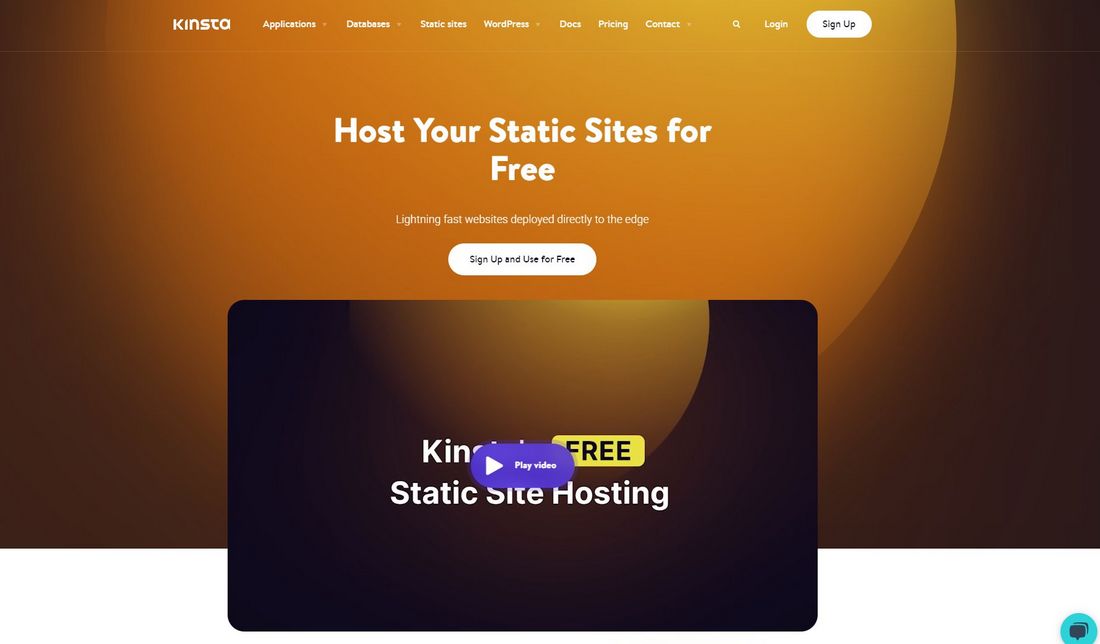 Web hosting is not cheap. These days, it will cost you at least $100 and sometimes more to buy hosting for a website. If you're just trying to host a simple portfolio website or an online CV to land a job, you may not want to spend that much money on web hosting.
Kinsta Static Hosting is a great solution to that problem. It gives you free hosting to host your own static website with just a few steps. With it comes the modern Kinsta dashboard for you to manage your sites. And the same reliability and fast performance you get from the hosting provider.
What Are Static Websites?
Static websites are sites that have web pages with static content. For example, when you build a website using HTML and CSS, they are considered static. They remain the same until you make a change.
These sites are easier to host since they don't cost a lot of server resources. Unlike dynamic sites, like sites built with WordPress, that require lots of resource-intensive scripts to deliver dynamic content to visitors with login forms, newsletter forms, and various other functions.
Static sites are ideal for making basic business websites, resumes, landing pages, and portfolios since they don't require to be changed often.
Host Up To 100 Static Sites
Whether you need to host one static website or 100 static websites, Kinsta Static Hosting has got you covered. The service allows you to host up to 100 static websites on its servers as long as you keep them under the resource usage limits.
For each account, you get up to 600 minutes of build minutes and 100GB bandwidth per month. You also have to keep each site under 1GB per build size with only 1 concurrent build.
Since you're hosting static websites, adhering to these limits won't be an issue since static sites are usually quite lightweight.
Lots Of Static Site Generators To Choose From
If you're familiar with static site generators, such as Astro, Gatsby, Brunch, and Vuepress, setting up your static site will be much easier.
Kinsta Static Hosting is compatible with all those static site generators as well as many other popular platforms. They will allow you to easily publish websites according to your needs.
Ability To Add Custom Domains + Free SSL
When you setup a site with Kinsta Static Hosting, the platform will assign a sub-domain name to your account (eg: my-site.kinsta.page). You can use this sub-domain to access your website and share it everywhere.
If you have a custom domain name, you can set it up as well. Normally, most platforms charge extra for adding custom domains but with Kinsta Static Hosting, it's free. Not only that, you will also get a free SSL certificate too!
Powered By Kinsta Edge Network
The term free hosting often means slow websites. But you don't have to worry about that when using Kinsta Static Hosting.
Each static site you host on Kinsta Static Hosting is published on the Kinsta Edge Network. Powered by Cloudflare, Kinsta Edge Network features more than 260 locations around the world that ensure no matter where your visitors come from, they get to experience a fast-loading website.
It's Completely Free
As we've mentioned multiple times, Kinsta Static Hosting is completely free!
It's a fact that deserves to be repeated since we don't get to experience such high-quality free services these days.
Kinsta has a sleek and beginner-friendly admin dashboard that offers a simpler way to manage all your websites and domains in one place. The integration process with Github and static site generators is also quite straightforward.
Those are just a couple of the many great features included in this free service.
How To Set Up A Static Site
To create a static site with Kinsta Static Hosting, you'll need three things— a MyKinsta account (free), a Github account (free), and a domain name (optional).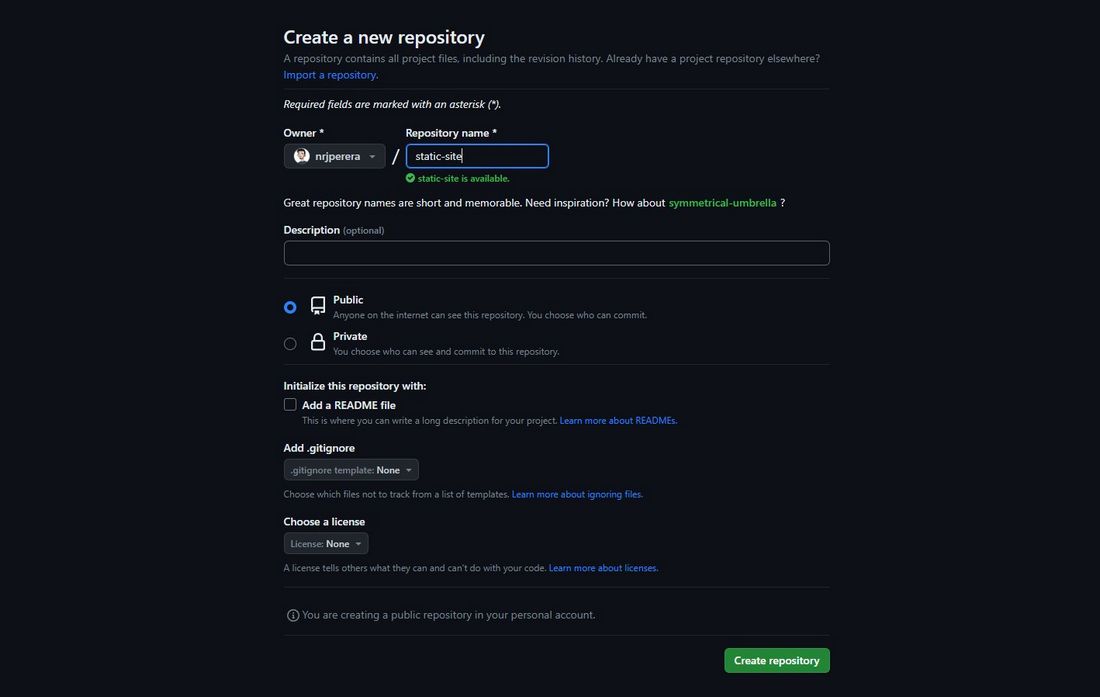 First, login to your Github account and create a new Repository.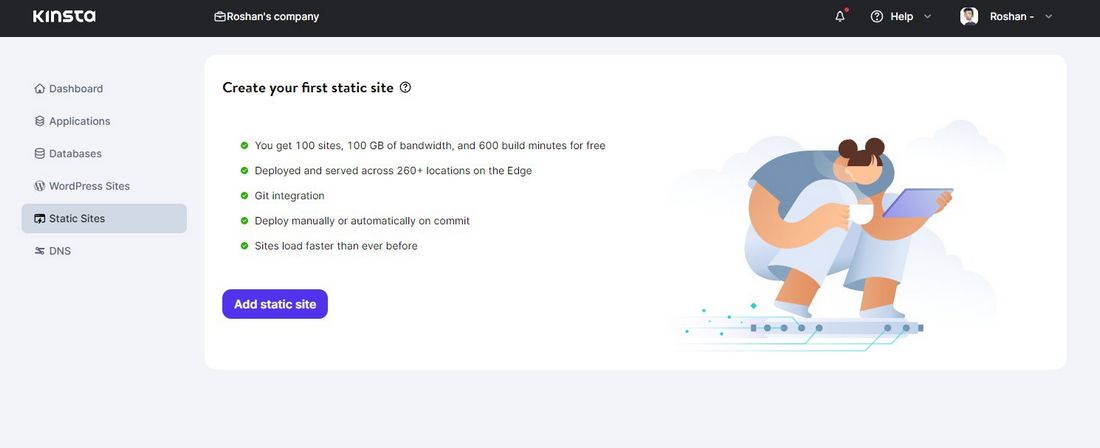 Then login to your MyKinsta account to access the Static Site Hosting service from the dashboard. Simply click the Add Static Site button to get started.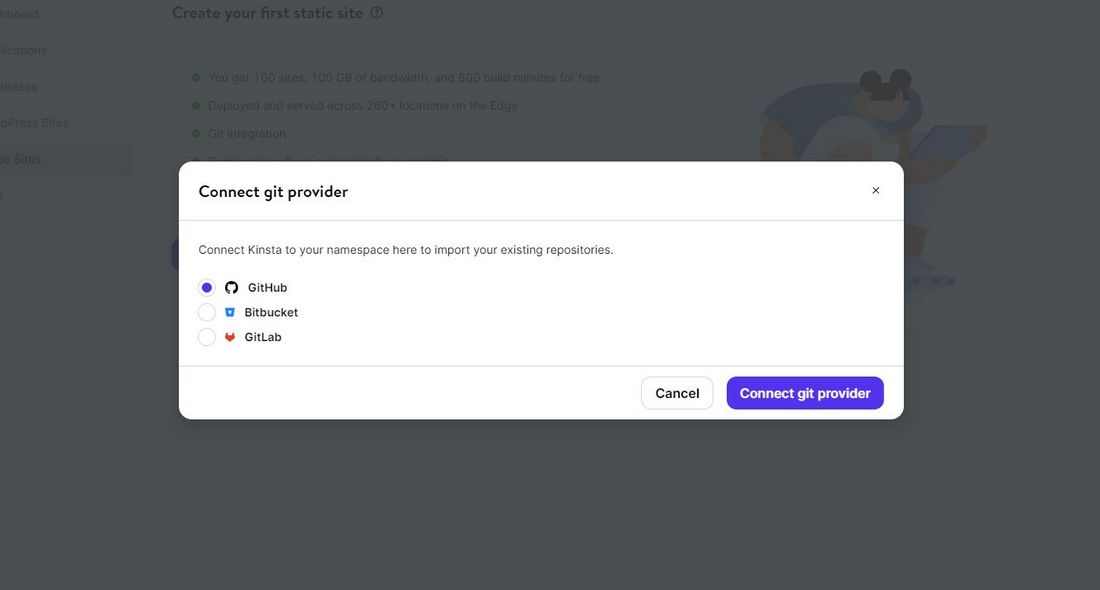 It will then ask you to connect your Github account.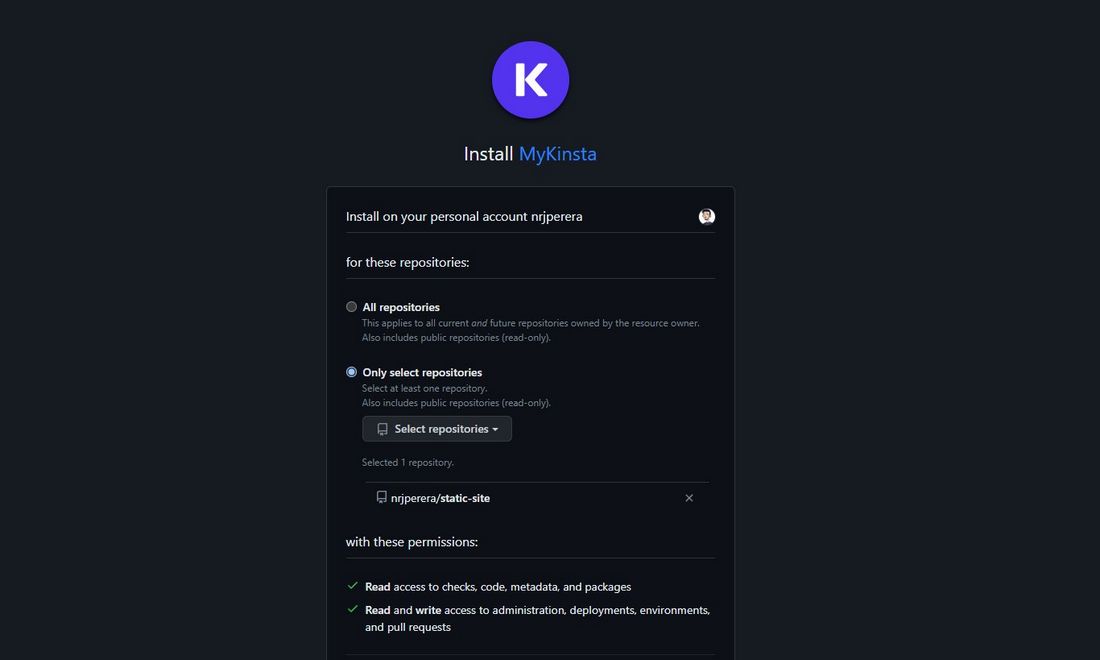 On the next page, you can select the new Repository you've just created and give Kinsta permission to access it.
Once that's complete, you can go ahead and setup the site.
Now, you will have access to your own static website that you can manage through Github.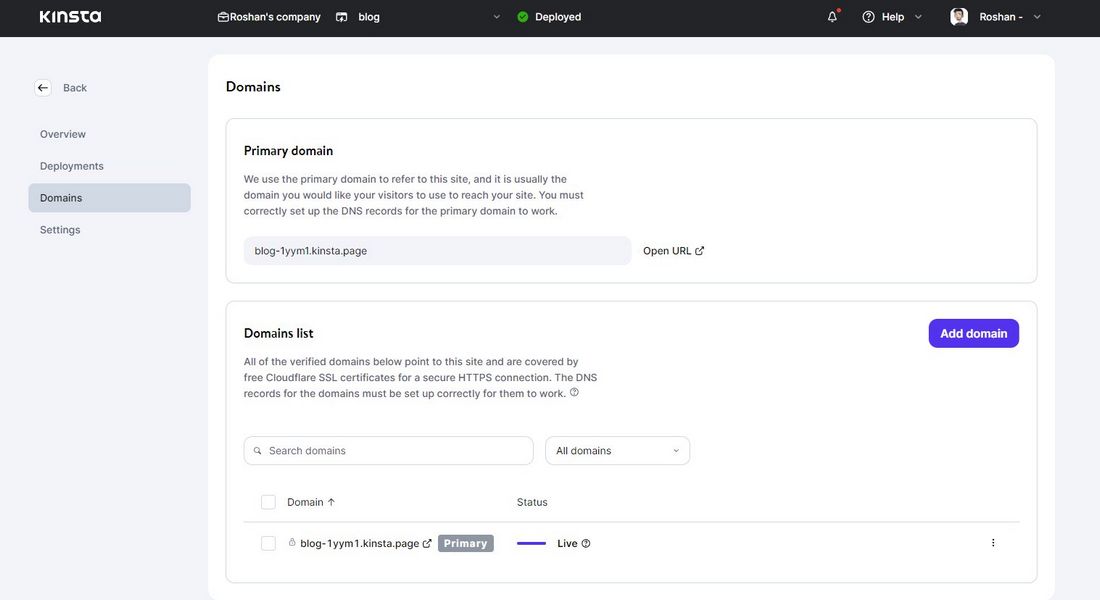 You can also add a custom domain through the Domains tab.
The installation process will be different when using static site generators. For more details about setting up a static website with different site generators, you can check out this document.
Should You Use Kinsta Static Site Hosting?
Surely, web designers and developers will find plenty of creative uses for Kinsta Static Hosting. You can even use it to preview your website designs to clients.
However, it's much more valuable for freelancers and professionals, especially for setting up portfolio websites, CV sites, and static sites for different projects.
It's also ideal for making simple landing pages for your side projects, free downloads, and even as your own custom LinkTree site.
Kinsta Static Hosting is definitely worth trying out. And who knows, you'll even be able to save money by canceling your existing hosting accounts and moving your static sites over to this free service.