Creative artists will soon become aspiring animators with the help of Procreate Dreams, a brand-new animation app from the creators of the renowned digital painting app on the iPad.
Much like its sister app, Procreate Dreams comes packed with lots of innovative features and tools that make 2D animation a breeze, even for complete beginners.
It will surely be a game-changing app that will elevate artists, illustrators, and designers to new heights by empowering them to make their characters and drawings come alive.
Let's take a closer look at Procreate Dreams and see what this new animation app has to offer.
What Is Procreate Dreams?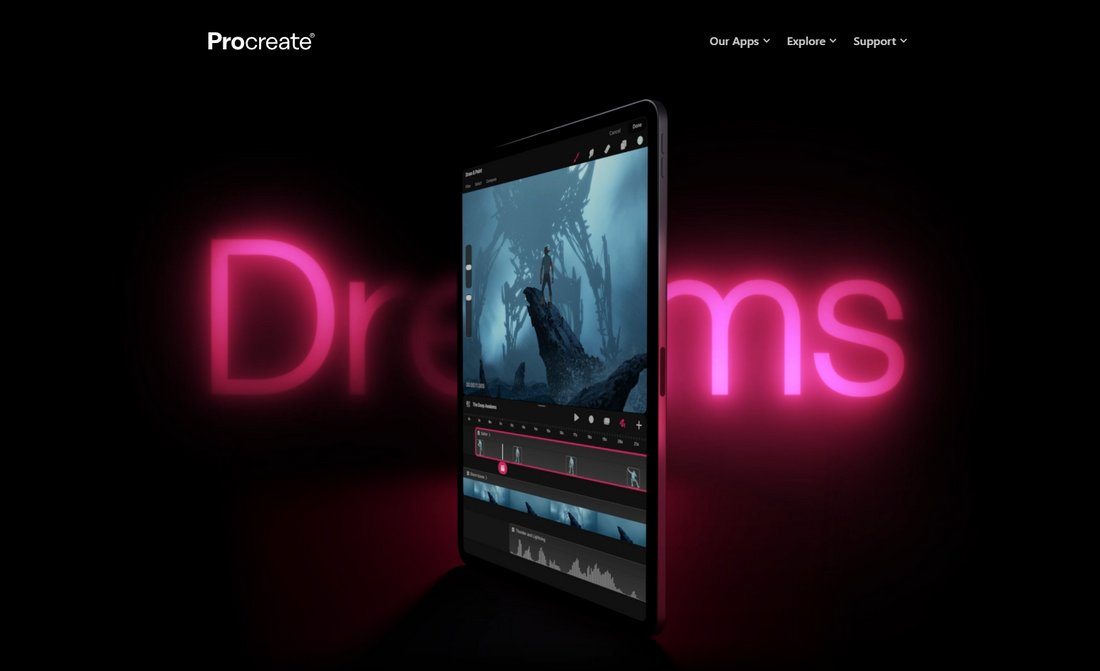 Procreate Dreams is a 2D animation app developed by Savage Interactive, the Australian developer behind the popular iPadOS digital painting app Procreate.
In a way, Procreate Dreams is an animation app designed for artists. It aims to simplify the entire process of creating animations and giving life to illustrations, in a much easier way than any other animation app available today.
Procreate is still one of the top-rated digital painting apps in the world and the developer has spent years perfecting this new animation app to bring that same level of quality to Procreate Dreams.
Use Familiar Tools In An Entirely New Way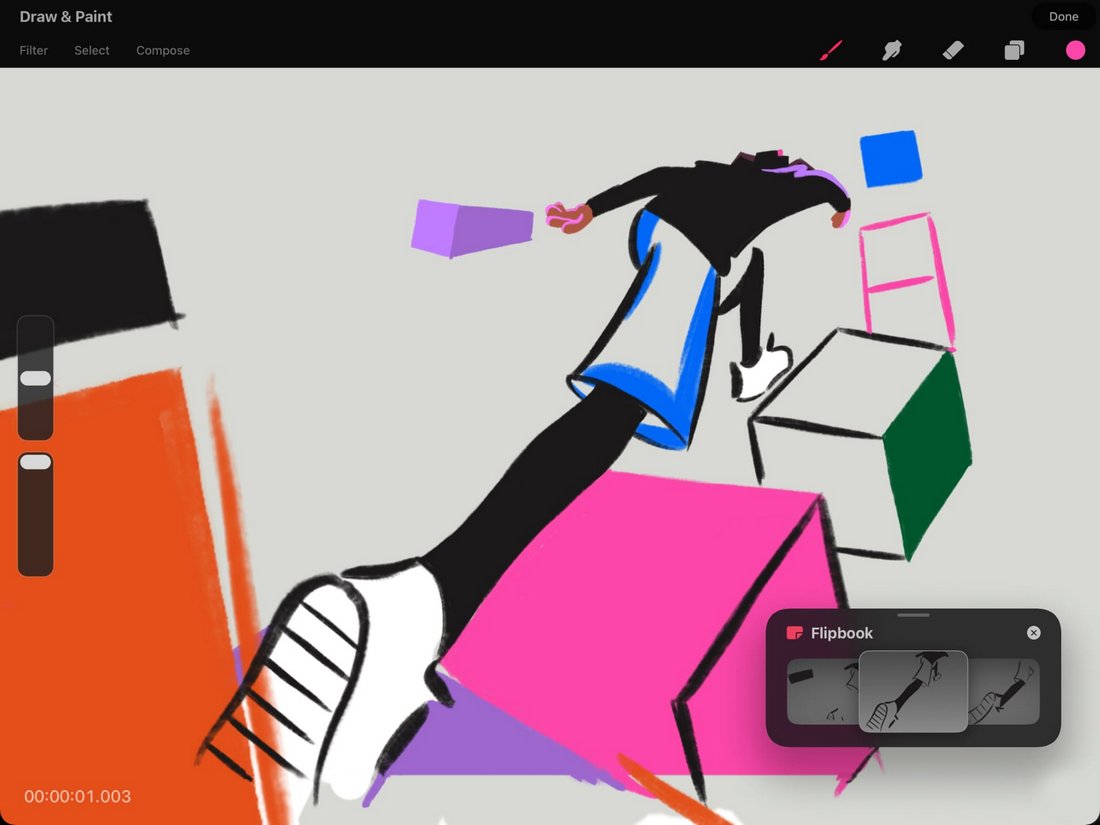 Procreate Dreams won't be an entirely unfamiliar environment for fans of the Procreate app. It will feature some of your favorite tools, brushes, and the usual smooth Apple Pencil support to craft your own animations without having to learn everything from scratch.
You can easily flick the timeline view aside to bring more attention to the Draw and Paint mode, called Flipbook, and you can start drawing the frames. It will feel similar to using the Procreate app, only this time your drawings will be part of a larger story.
Or, you can bring your Procreate drawings over to the Dreams app, with all of its layers attached, to make the animation process much easier.
The app also supports videos. You can add videos to your animations as well as draw on top of the videos to create a whole new kind of animation.
Innovative "Performing" Mode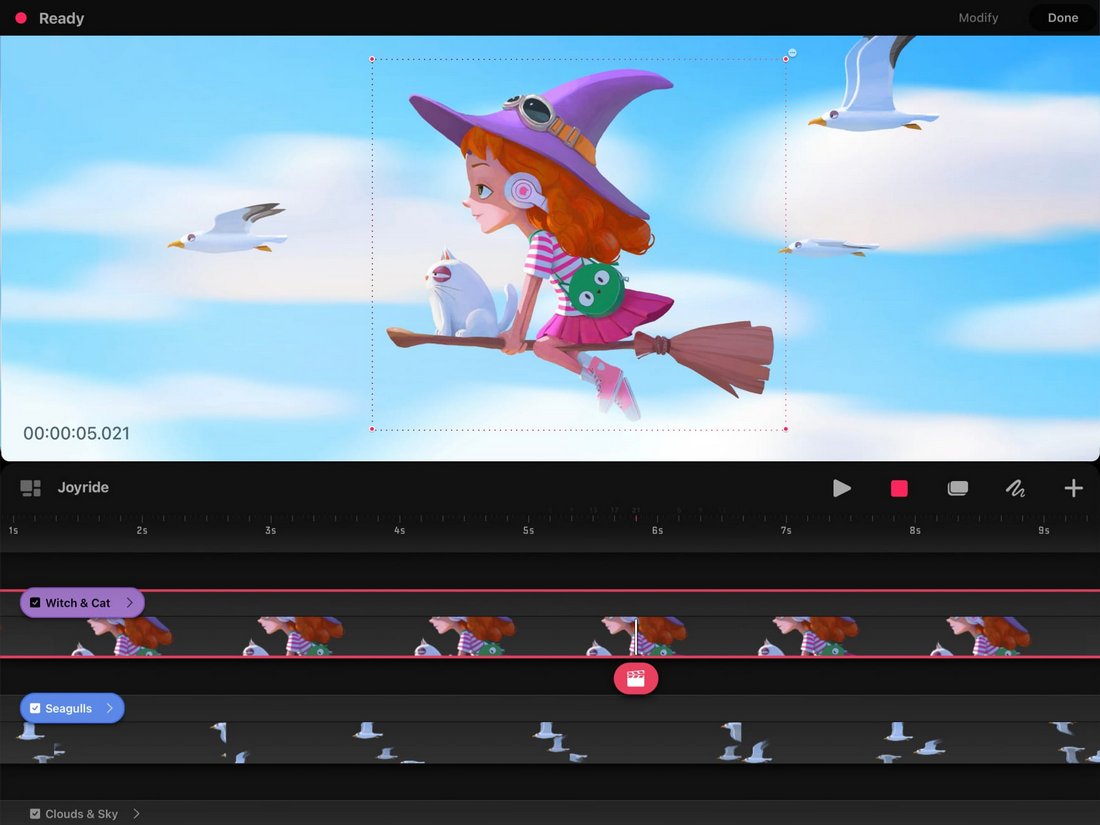 Procreate Dreams is packed with many cool features. One of the most innovative features among them all is the Performing mode.
This is a feature the developers have specifically engineered for the Procreate Dreams app. And it makes the entire animation process as easy as tap and drag.
For example, when you want to animate something like a bird flying, all you have to do is hit Record and drag the bird to move it to a different place and the Dreams app will do the animation part for you.
This takes away the tedious and time-consuming process of creating paths and adding motion animations to each object you want to animate. It simply allows you to focus on what matters the most—creating your story!
A Timeline Like None Other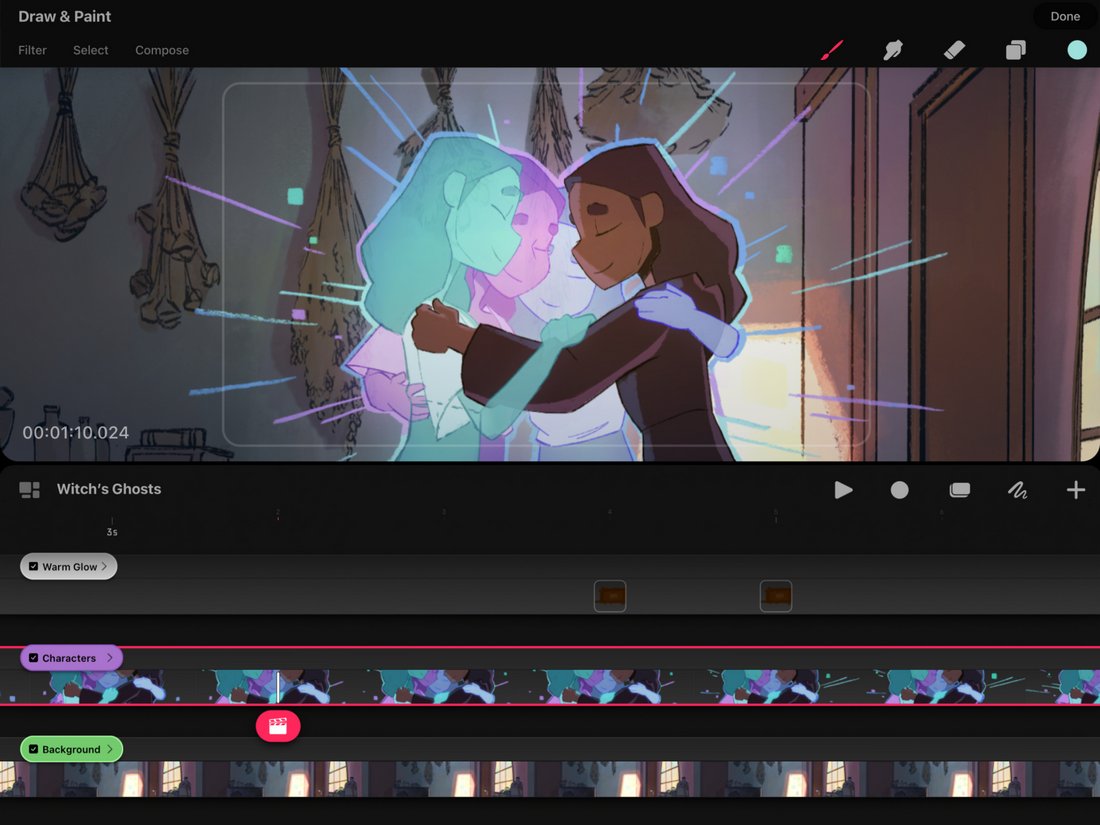 The timeline is arguably the most important part of any animation app. While it may look and feel similar to other software, like Adobe After Effects, the timeline on Procreate Dreams offers a much more hands-on approach for you to create animations.
The timeline on Procreate Dreams offers a much more hands-on approach for you to create animations.
Procreate Dreams timeline is designed to function on the iPad and it has been fully optimized to work with gestures and movements. You can easily pinch to zoom in and out to get a closer look at the exact frames. Tap to add keyframes and effects. Use your fingers or the Apple Pencil to move things around. And do much more with ease.
The previews will also be locked to your zoomed-in sections. If you have a part of the timeline zoomed-in, when you press play it will only preview a loop of the section in the zoomed-in area according to the duration on the screen.
It also has a big and easily noticeable Playhead that you can move around with your fingers to add keyframes and actions.
Faster Than Any Other App
During its keynote presentation, the developers made a bold statement saying that Procreate Dreams is much faster than any other app animation app.
While most other animation apps utilize CPU-accelerated systems to power up the software features, Procreate Dreams takes advantage of the iPad GPU to make the app perform faster and smoother, much like the Procreate app.
This means you will never have to wait around for your animations to process or for things like RAM previews because Dreams will allow you to create animations in real-time, thanks to its new Real-time Engine, which has been built from scratch just for the Dreams app.
Next-Generation Procreate Painting Engine
The developers also reassured that Procreate Dreams is not a reskin of the Procreate app or a product built on top of Procreate. It's an entirely new product.
With Procreate Dreams comes the next-generation Procreate painting engine, which includes some amazing features. Like the support for resolutions of up to 1 Million X 1 Million pixels. To put things in perspective, Procreate only supports resolutions of up to 16K pixels.
How Much Does It Cost?
Similar to the Procreate app, the Procreate Dreams app also uses very simple and straightforward pricing.
Procreate Dreams only costs $19.99. It's a one-time fee. No subscriptions!
For this one-time price, you will get access to all of its future updates, tools, and features. We really appreciate it when developers create such consumer-friendly products. It's truly a wonderful way to make great tools accessible to everyone.
In Conclusion
Procreate Dreams is not another iPad app, it aims to revolutionize the ways of 2D animation by bringing new ideas to the table. All the while offering a more convenient, affordable, and simple solution for artists and creators to use to bring their creations to life. It will surely open up new doors of possibilities for artists of all kinds.
Procreate Dreams will be available on November 22 on iPad.
5 FAQs About Procreate Dreams
There is a lot to discover about this new animation app. You can learn more with these frequently asked questions by the community.
1. Is Procreate Dreams Available on Android?
Procreate has always been exclusive to iPadOS so no, don't expect Procreate Dreams app to land on Android. This app has been specially built to take advantage of the resources available on Apple iPad devices.
2. Is Procreate Dreams Worth Buying?
Procreate Dreams comes packed with amazing features that allow anyone to become an animator. It's such a powerful app that's available at a very affordable price. It's definitely worth buying if you're interested in animation, especially as a starting point.
3. What is the Difference Between Procreate and Dreams?
Procreate is a digital painting and drawing app for the iPad. Procreate Dreams is a 2D animation app that allows you to draw and animate things more easily. You can use both apps together or individually according to your needs.
4. What Devices are Compatible with Procreate Dreams?
The specific requirements for Procreate Dreams haven't been revealed yet. But we can expect it to be compatible with all models of iPad Pro since the Procreate app is also compatible with those devices as well as 5th-generation iPads and higher.
5. Is Procreate Dreams Free?
No, Procreate Dreams is not free to use. It's a premium app. But it comes with a very affordable one-time price of $19.99. There are no subscriptions.