While AI art generation tools like Midjourney and DALL-E are making waves, the spotlight is now shifting toward AI-powered photo editing. And that's exactly what we're going to explore today.
With the help of AI, you can now do many different types of photo editing work with just a few clicks and some text prompts. Photo editing work that took days for designers to complete can now be done in a matter of seconds.
In this post, we look at some of the best AI photo editing software you can use to supercharge your professional work. With these AI photo editing tools, you'll be able to instantly enhance photos, do photo manipulations, create artworks, and much more.
Without further ado, let's dive right in and explore the list.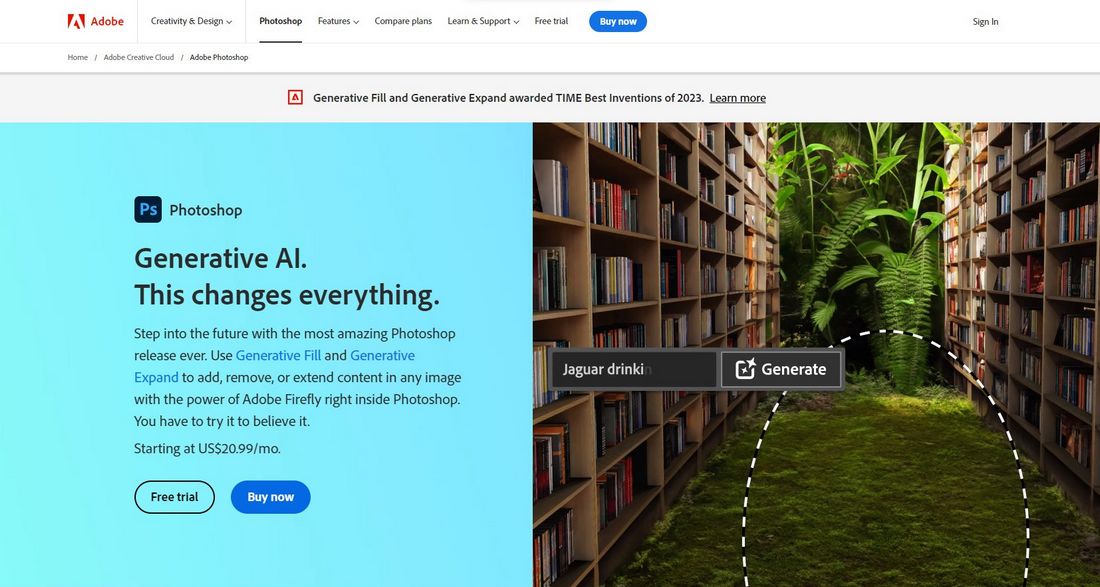 Photoshop has always been the go-to software for photo editing. And now with new AI tools, the process of editing photos and creating graphics is much simpler and easier.
Photoshop received a number of powerful Generative AI features in 2023, which allowed users to expand images, add objects, and create photo manipulations using nothing but text prompts. This feature made Photoshop much more powerful than it ever was.
Best Features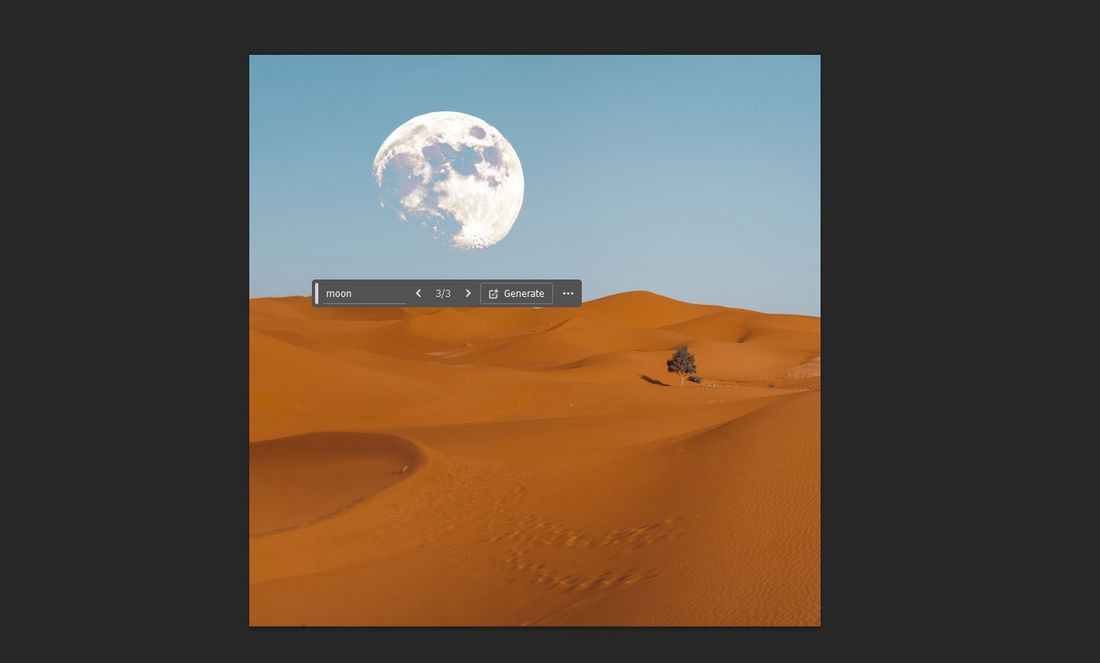 Photoshop's AI tools allow you to do many cool things. Like removing objects from photos and adding entirely new objects and sceneries with a simple prompt. You can also expand images using generative fill to make photos wider or taller while maintaining a consistent look.
While these features may sound simple, the level of accuracy and quality is what makes them so incredible. They will add much more value to your photo editing work and enhance creativity.
Price
There are several ways you can get access to Photoshop. The cheapest way is to subscribe to the Creative Cloud Photoshop plan, which costs $20.99 per month. Or you can get access to all of the Adobe Creative Cloud apps for $54.99 per month.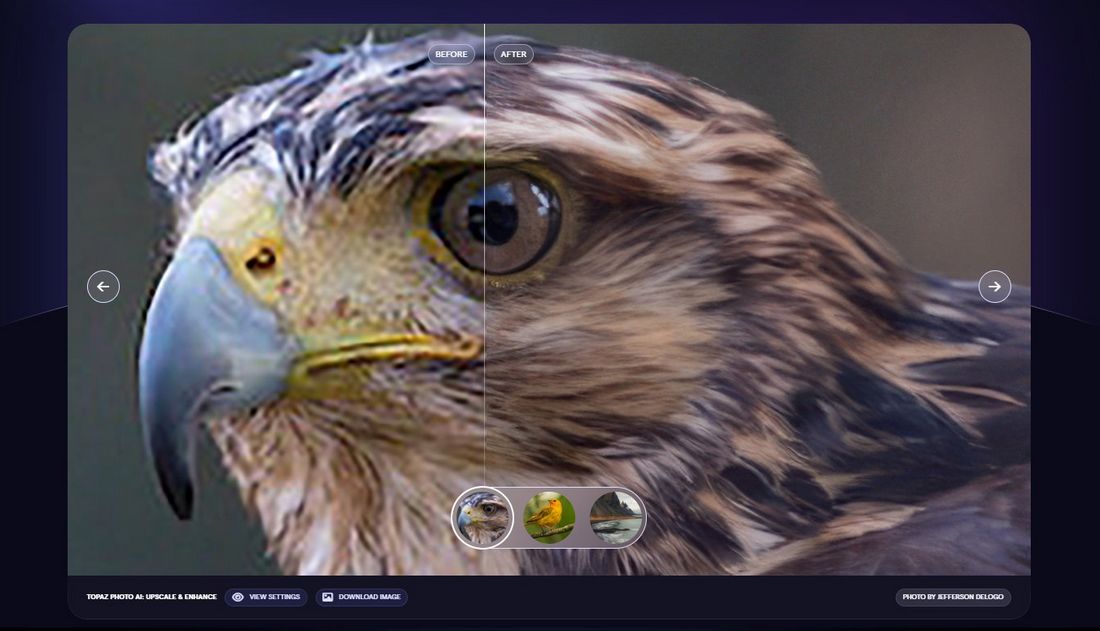 Topaz Labs has been producing useful Photoshop plugins for many years and the company has now shifted to develop stand-alone software with powerful AI features. Topaz has developed two major software with AI features, one for photo editing and another for videos.
Topaz Photo AI combines all the best tools from Topaz's plugin arsenal, like Denoise, with innovative AI features to offer a strong photo editing and optimizing tool for designers and photographers.
Topaz Photo AI is a software designed specifically for enhancing and optimizing photos. As a result, it's much more suitable for photographers and photo editors working on professional projects.
Best Features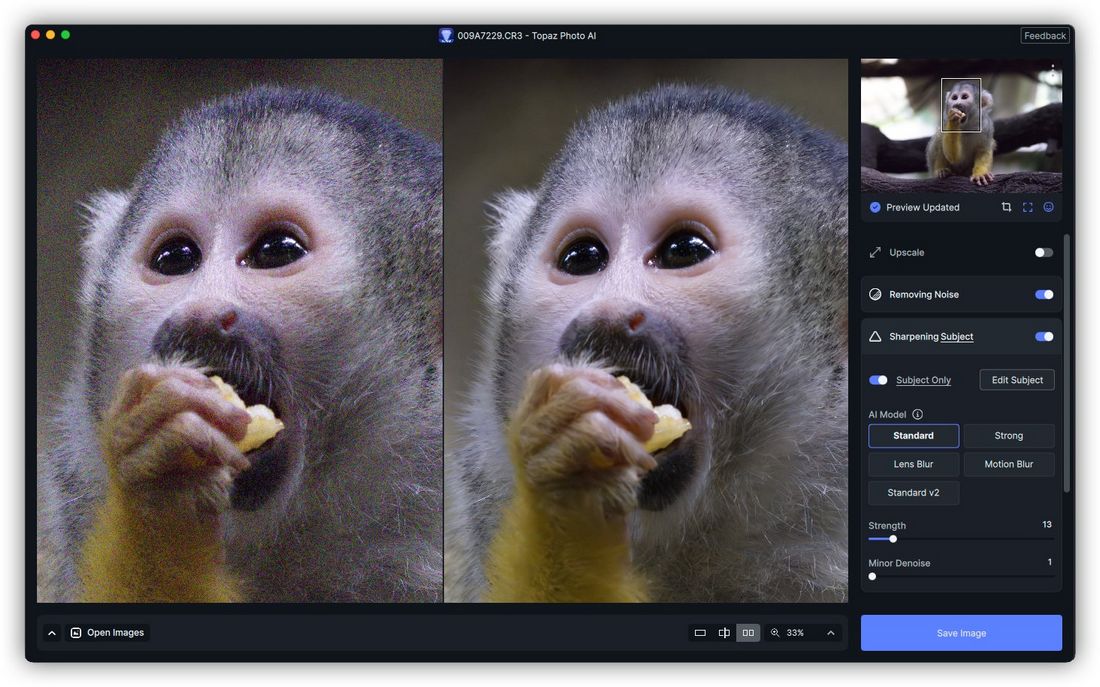 The Sharpen and Denoise functions are the most attractive features of the software. They simply make your photos much clearer by enhancing quality with just a few clicks. You also get to choose from multiple AI models to achieve different styles of results.
Additionally, you can also increase the resolution of a photo with AI upscaling and fix lighting issues almost instantaneously. A new AI-powered object removal tool is also on the way.
What makes Topaz Photo AI much more beneficial to photographers is its ability to batch process hundreds or even thousands of photos at once.
Price
Topaz Photo AI costs a one-time price of $199. Or you can buy individual models of the software, like Denoise AI and Sharpen AI at $79.99 each.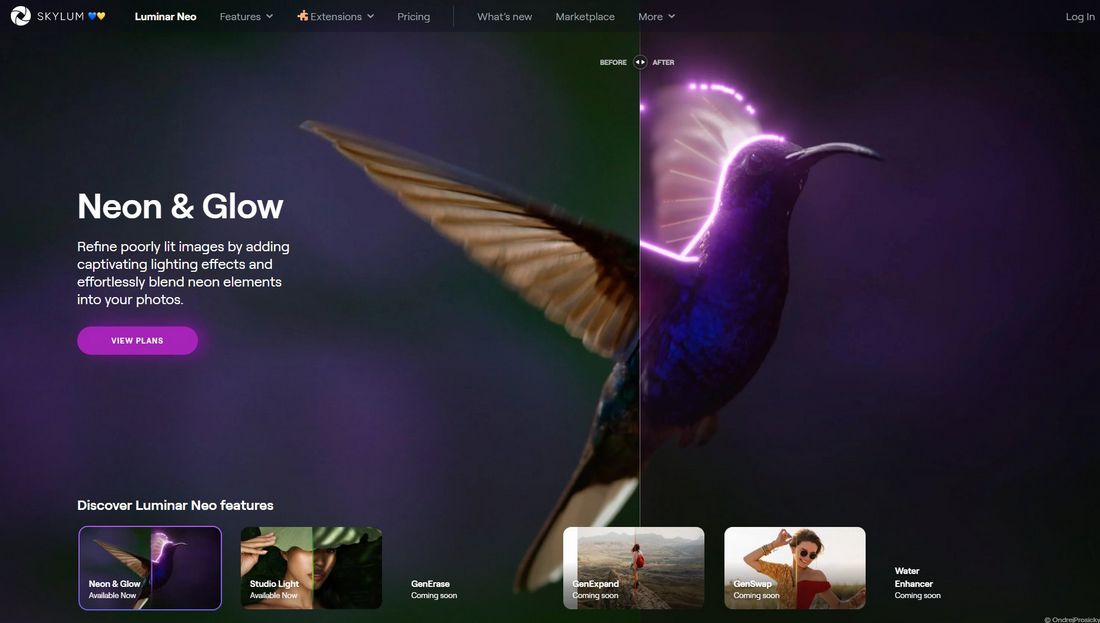 Luminar Neo is another powerful AI photo editing software that's slowly gaining momentum in the design world, all thanks to its innovative AI-powered tool kit.
Similar to Topaz Photo AI, Luminar Neo also focuses on enhancing and improving photos, except this software brings more creative AI tools to make the editing process much easier for both designers and photographers.
Best Features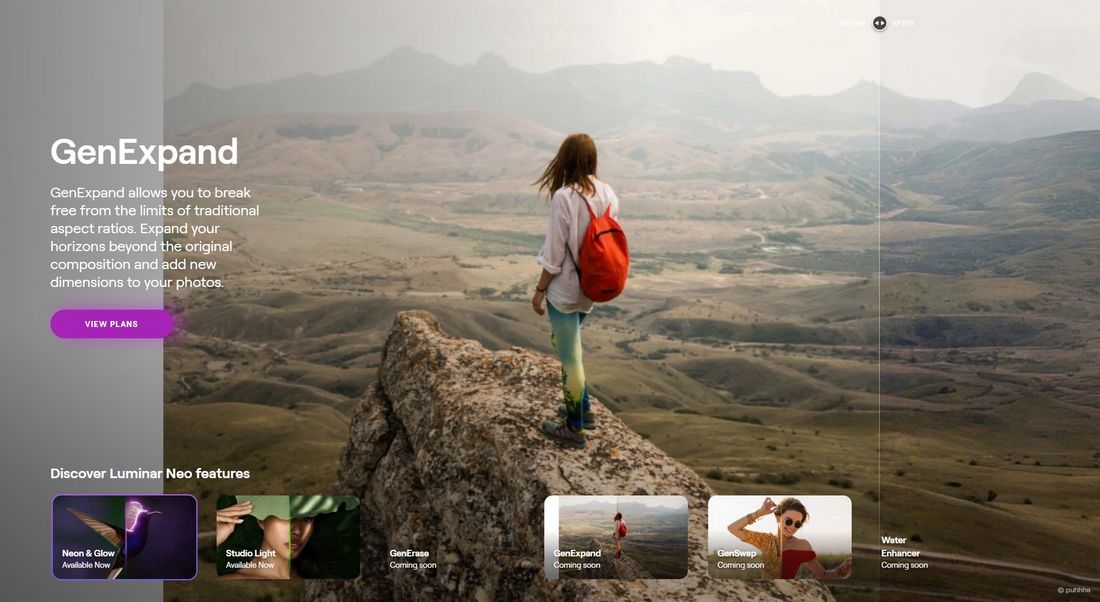 Luminar Neo includes lots of cool and creative AI features, like the Studio Light tool that enhances the lighting of photos. Replace the sky in photos. Retouch skin on portraits. Add portrait bokeh and much more.
The software also has an auto-enhance tool powered by AI, which instantly detects all the areas to improve in a photo and performs a quick overall enhancement.
More AI tools, like GenErase for removing objects, GenSwap for replacing things like clothing, and GenExpand for extending photos, are on the way for Luminar Neo.
Price
Luminar Neo is available as a subscription. It costs $11.95 per month or $7.42 per month with the annual plan. Each plan allows you to activate the software on up to 2 computers.
Imagen is a different style of AI photo editor tool that works with Lightroom Classic. This tool is ideal for photographers as it has the ability to learn your style from previously edited photos and then apply that same style when editing photos with AI.
The software also lets you choose from one of its pre-built AI profiles, which includes styles created by industry-leading photographers to enhance your photos with the same level of quality.
The only downside to using Imagen is that it requires Lightroom Classic to function. However, it is designed to make your workflow much smoother and faster. It will save photographers hours of time spent making tiny adjustments for hundreds of photos.
Best Features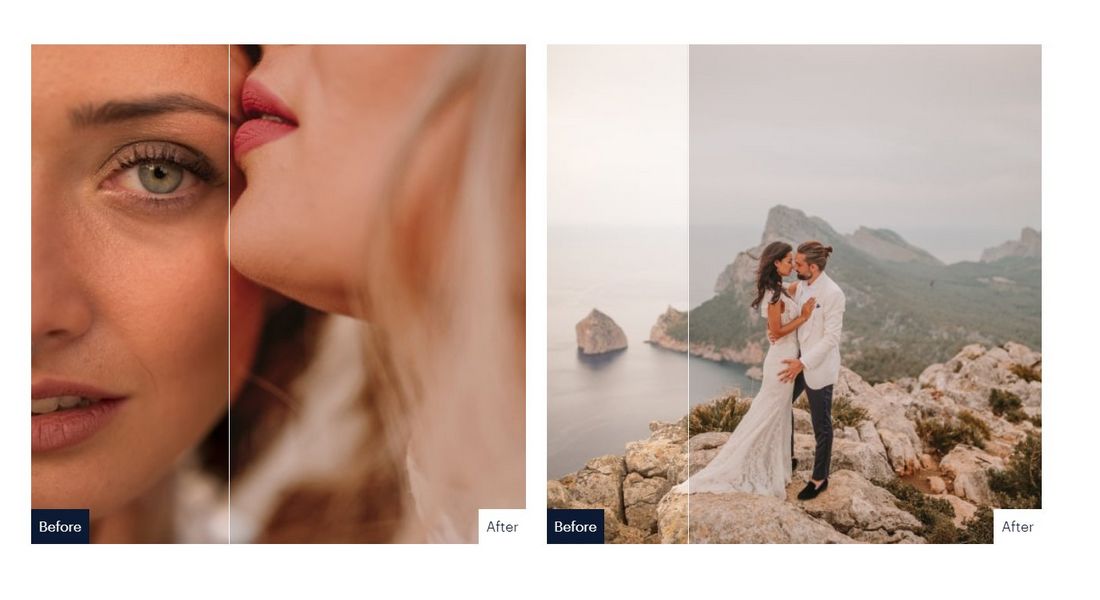 The ability to copy the photo editing styles of reputable photographers is the most interesting feature of Imagen. With this Talent AI profile function, anyone can take a photo and make it look more professional in minutes.
Being able to save time while processing hundreds of photos is another great feature of the software.
Imagen makes a bold claim on the website saying it can edit 1,000 photos in under 10 minutes. We're not sure how accurate this claim may be but we are confident the tool can save lots of time for processing batch photos.
Imagen also supports both RAW and JPEG formats.
Price
Imagen has pricing based on usage. When you first download Imagen, you will get 1,000 AI photo credits for free. Then the pricing starts at $0.05 per photo with a minimum of $7 per month usage requirement. Using other tools in the software will cost an additional $0.01 per photo.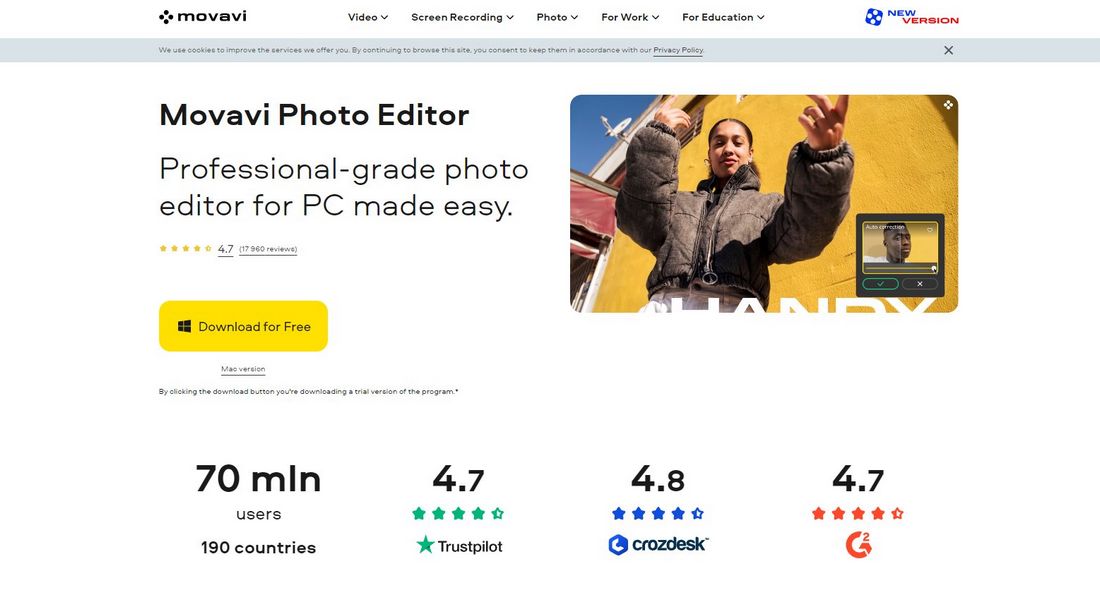 Movavi is a company well-known for its video editing software. However, they've also been developing a photo editing app for a while. This app has received several great AI-powered features to make it a much more formidable competitor in the photo editing niche.
This software works similarly to Luminar Neo by bringing several useful AI tools for editing and enhancing photos. It also has support for RAW image files as well as basic photo editing tools, text tool, and color correction tools.
Best Features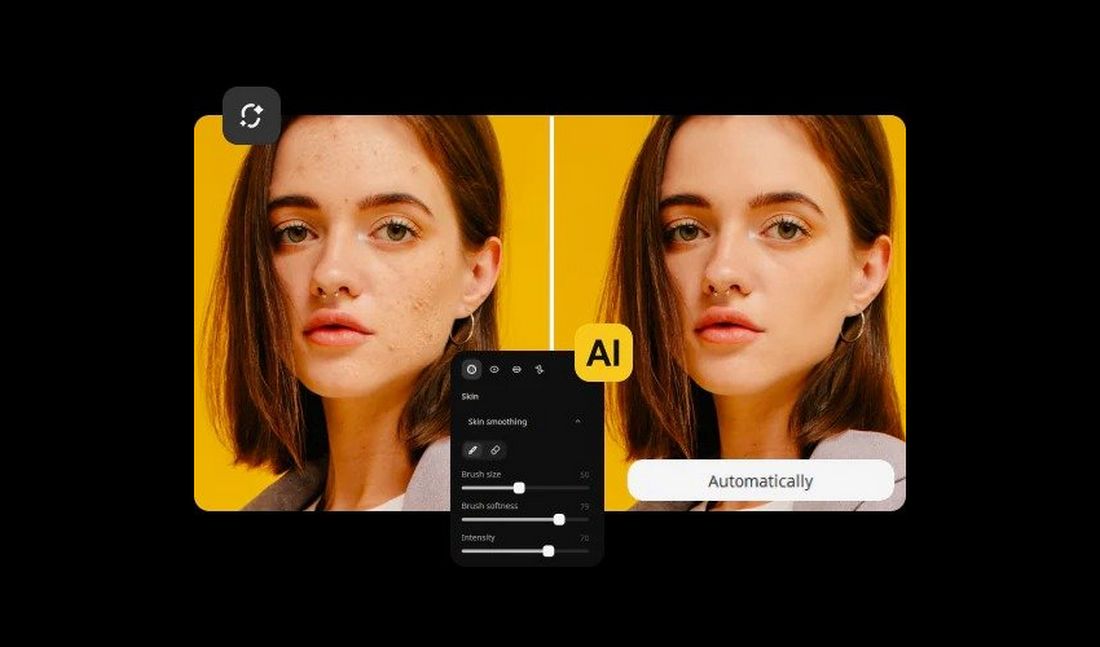 There are several interesting AI tools available on Movavi Photo Editor, including the AI restoration feature that allows you to repair old and damaged photos as well as colorize old black and white photos.
It also has an object removal function powered by AI and photo retouching with adjustable parameters. You can also use the AI auto-enhance option to instantly improve the photos with just a few clicks.
Price
Movavi Photo Editor costs $49.95 per year. This includes all updates to the software as well as access to future versions. Or you can purchase it for a one-time price of $69.95, which includes software updates but only for the current version of the app.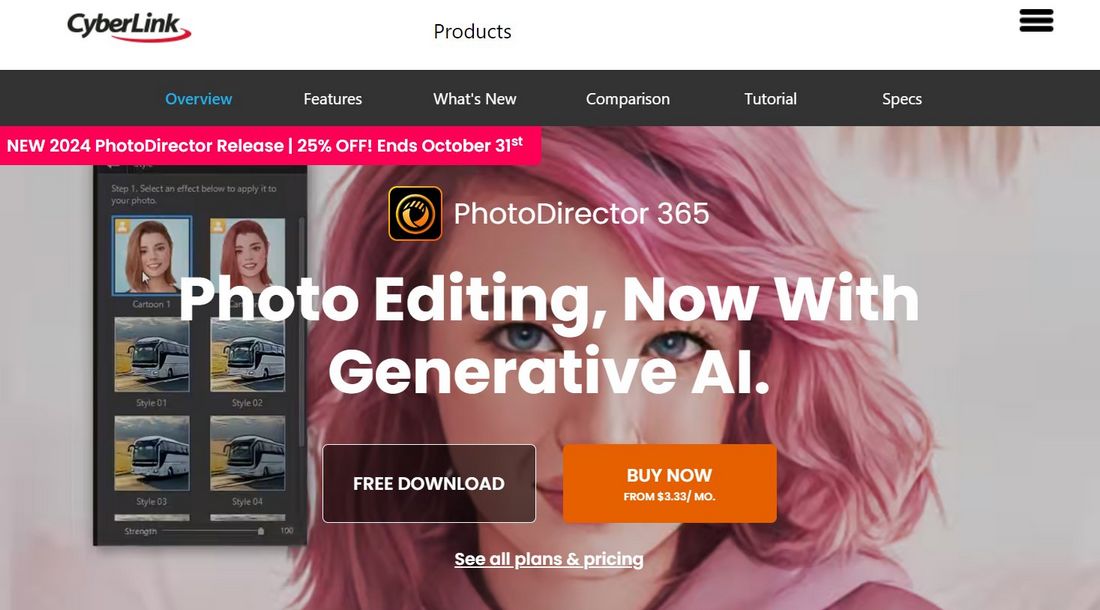 PhotoDirector is another AI photo editing software that comes from a company known for video editing software. Much like Movavi, Cyberlink has a complete suite of software featuring video editing, photo editing, and audio editing software.
PhotoDirector has been around for a long time but now with generative AI features, it's much more attractive to users who are interested in enhancing photos without having to do all the work.
Best Features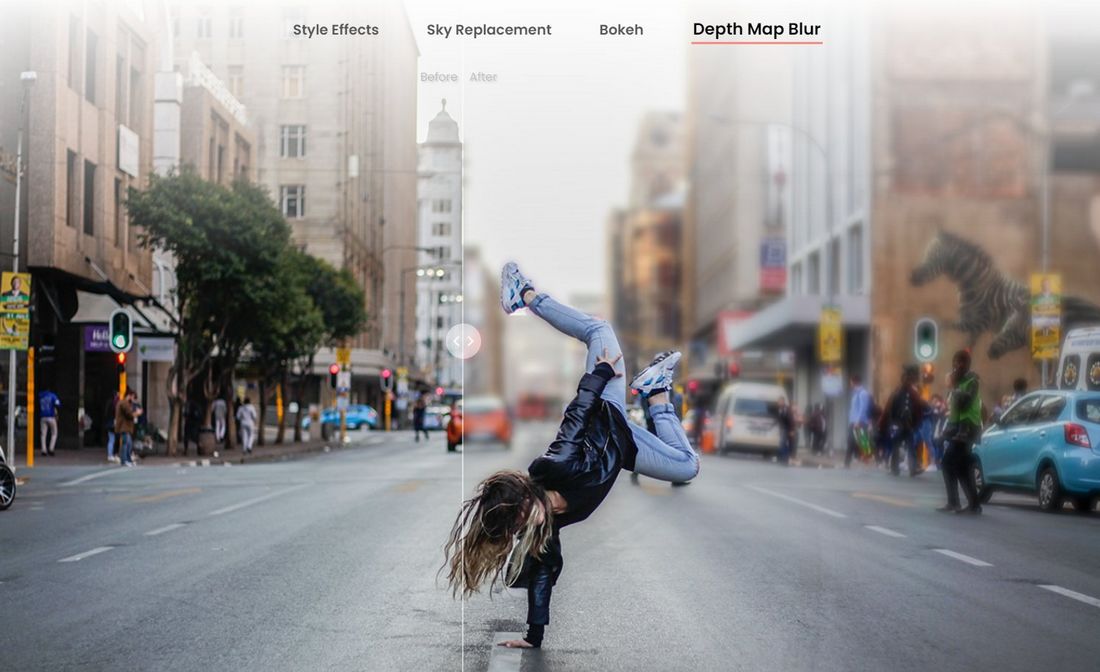 Unlike most other photo editing apps on this list, PhotoDirector includes a generative AI tool that allows you to generate art and images using an AI model.
It also has an AI-powered photo enhancer that can do many tasks like improve photo quality, remove objects, and change backgrounds with one click.
The software has AI-powered special effects that allow you to replace the sky, add bokeh, textures, and depth map blur effects.
Price
CyberLink PhotoDirector also uses subscription-based pricing plans starting at $54.99 per year or $14.99 per month.
Which AI Photo Editor Should You Use?
An important thing to keep in mind when using these AI tools is they don't always work as advertised. The results you get from these AI tools will often vary and you should not depend on them to handle all your work.
Instead, try to incorporate these tools to make your work simpler and easier. Let these tools handle some of the minor tasks in your workflow so that you can free more time to focus on more creative aspects of the projects.
The AI functionality of Photoshop is quite impressive. Adobe is a huge corporation and they are continuing to invest in generative AI. And it clearly shows in the high-quality results generated by Photoshop AI.
Topaz Photo AI and Luminar Neo are also great for enhancing your photo editing process. Imagen is worth checking out for photographers as well.
Most of these tools offer free trials so be sure to check them out before making a commitment.