It's a common question: What does a new website cost?
It might be for a new brand or company that's never had a website before or for an existing organization looking for a website design refresh. And the answer is a bit complicated.
It all depends on the path you want to take and your timeline for getting a new website online. Here, we're going to break down the options available to you and the costs associated with a new website.
Plus, a few tips and rules to follow as you begin the process.
New Website Design Options & Costs
The thing to keep in mind when looking at the cost of a website is not just actual price but also time and needs.
The price of a website is highly variable with lots of considerations, from the size of the website to content types to industry to technology being used. The thing that might be most interesting is that a new website can cost anywhere from a few hundred dollars for a small DIY site to as much as $100,000 for a full-scale large website build.
When it comes down to thinking about building a new website, you have four options for managing your project and design. From the least hands-on to the most they include hiring a professional, using a website builder tool yourself, or undertaking a complete do-it-yourself design project.
The thing to keep in mind when looking at the cost of a website is not just actual price but also time and needs. Some of the lower-cost options can start to add price quickly if you need a lot of extras to run the site or build the design, making it important to do your homework to get a full picture of the actual price over time.
Here are the general costs that come with each option.
Hire a Professional – Agency or Firm
The most hands-off website design solution for most businesses is to hire out the process. A professional agency or firm is the likely choice for larger or more complex projects.
Costs generally have some level of variance for a professional design and your primary role is as project manager. Everything else will be covered by the agency or firm managing your website build.
The type of website you need can impact cost dramatically here:
Informational, blog, or small business website design: $5,000-$10,000
Corporate website (25-75 pages): $10,000-$50,000
E-commerce website (100-1,000 product listings): $7,500-75,000
Database website or application: $10,000-$100,000
These ranges include most features that you would expect such as mobile responsiveness and elements such as contact forms. It's a good idea to outline all of the functionality you expect from a website when you talk to different agencies to get an accurate quote for the work.
If you aren't sure where to start with hiring an agency or firm, you can write a request for proposals for your project. This document will outline your needs (and possibly budget) and allow different companies to submit proposals that you can compare.
Hire a Professional – Freelancer or Contractor
For smaller websites and e-commerce, hiring a freelance website designer/developer or subcontractor can be the ideal option. Working with a freelancer designer or contractor will probably cost 50% to 60% of what working with a larger agency or firm costs.
The tradeoff often comes in time, because you are working with an individual rather than a team. Often freelance designers or contractors will only take projects of a certain size (no large e-commerce, corporate, or database-driven projects).
You still get the turn-key solution of a professional so that you don't have to do more than manage the project. You can also find freelancers through an RFP process or through personal connections or networks.
Use a Website Builder
If you want to have control over the project, but don't know anything about design or code, a website builder might be the right option. This is a fairly low-cost option but it does require you to have the time and knowledge to do the heavy lifting for the website design project.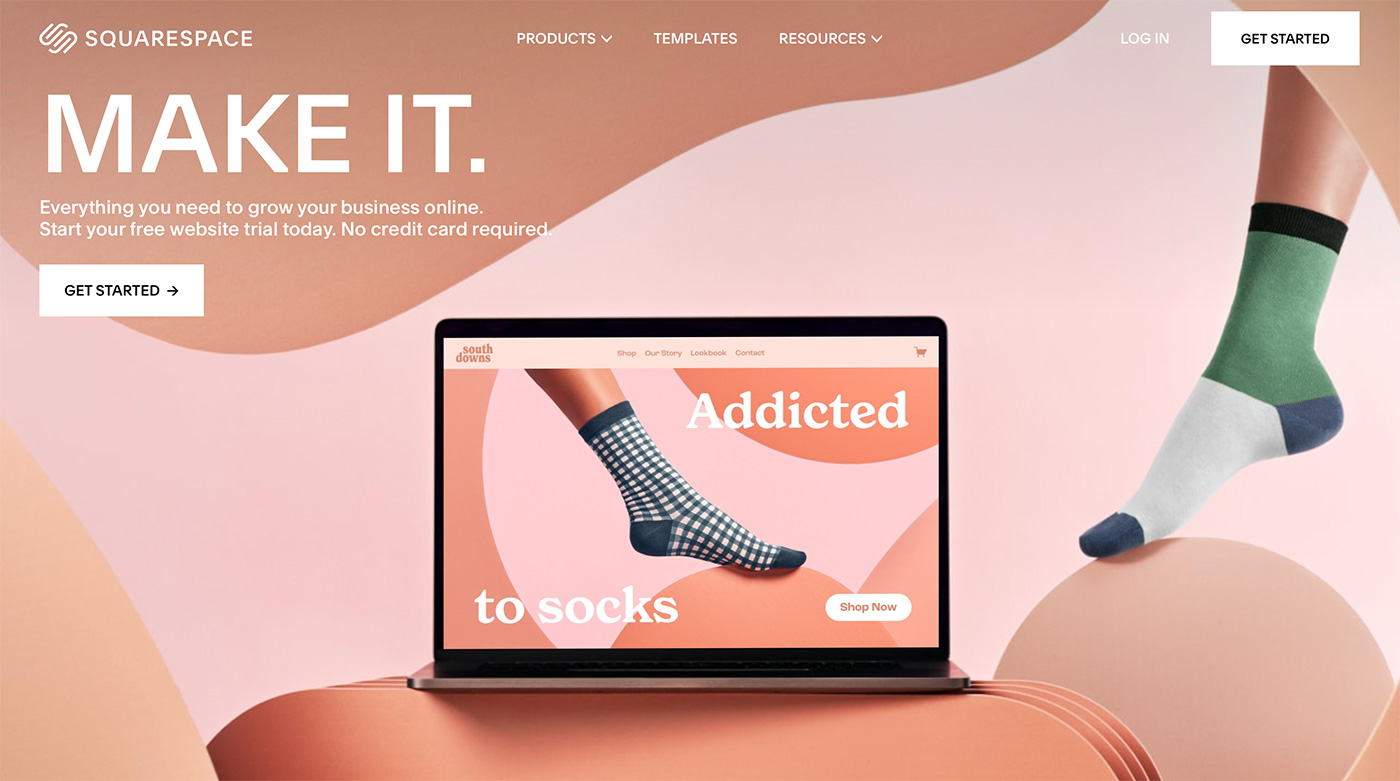 Costs associated with using a website builder often break down into a few different categories that charge a monthly fee for the tool and keeping the website online. Website builder prices are often all-inclusive – website, domain, and hosting – plus any add-on features that you select.
Base price for a website builder (subscription): $5-$30 per month
Custom domain: $12-$100 per year (usually broken down to a monthly rate)
Optional apps and functionality: $10-100 per month for elements such as ecommerce or contact forms
Do it Yourself
Even the do-it-yourself website option is not free from costs. You'll still need a domain and hosting at a minimum. Other costs include any other tools that you use on the way to creating the design or editing a pre-designed theme.
The most popular platform for websites in the world is WordPress, powering about 40% of all websites in the world. It's also free to use and build on if you are creating on your own. So we'll use this as the basis for a DIY website design costing model.
Base price: $0
Theme (optional): $20-$100 for a premium option with some support
Plugins or other functional tools: $10-$100 each (some have annually recuring fees)
Hosting and security: $150-$500 per year
Fixed Costs for Website Design
Other fixed costs for a new design might include things such as photography, videography, copywriting, and search optimization.
There are a few fixed costs to think about first in the website design planning process. No matter what path you choose to design and launch a website, there are a few fixed costs that are likely part of any scenario.
Sometimes these costs are folded into the final price, but often these are additional pricing elements that you will incur.
Website Domain: $12 to $100
Hosting: $50 to $600
Security Certificate: up to $100
Email: averages $5 to $15 per address
Plugins/Functional Tools: varies by tool; set aside $200 to be on the safe side
Other fixed costs for a new design might include things such as photography, videography, copywriting, and search optimization. These costs can vary greatly depending on your needs, market, and the volume of content needed for the website. (A smaller site is less expensive than a larger one and transferring existing content often is less expensive than creating from scratch.)
Variable Costs for a New Website
Depending on your needs, there are a variety of other costs that can be part of a website design project that aren't included in the price of the build or development. These include:
Photography
Videography
Copywriting/Content Development
Search Engine Optimization
Marketing
These services may come from the same vendor, particularly if you are using a professional agency to build the website, but they can also be outsourced to other third parties. Prices can vary greatly for these services based on your project size and market.
Ongoing Website Costs
In addition to what you pay up front or for the website build, there are annually recurring costs that you need to budget for. These include:
Domain Renewal
Hosting
Security Certificate
Payment Gateways
Plugins
Maintenance and Updates
SEO and Marketing
Apps or Paid Integrations
Elements such as domain renewal, hosting, and security will have recurring fees that are close to the initial costs for starting the website. The same is true of payment gateways, plugins, and apps or paid integrations.
Services such as maintenance and updates or SEO and marketing are highly variable costs that depend on your specific website needs.
Conclusion
One of the key phases of a new website design is planning a budget for the project and ongoing needs. You need to weigh the value of your time in relation to managing the website to costs. While $40,000 for a new build might seem like a big budget at first, think about the return of the website on your business and the time savings in not having to deal with it yourself.
A solid website is a must-have tool for most businesses and is the first impression you make on people (maybe even before you know they are looking); for most organizations, it's a worthwhile investment.