Plausible is an open-source web analytics platform that offers simple and easy-to-understand analytics with a lightweight script that's 45X smaller than Google Analytics script. It's the best alternative to Google Analytics. Here's why.
Google Analytics has been the go-to choice for web analytics for a long time. But lately, website owners have been looking for alternatives to switch over. The main reason is Google's push for Google Analytics 4 (GA4).
Google forced all users to switch to the new GA4 system by July 2023 or risk losing website analytics data. GA4 is an upgrade that greatly benefits apps and marketers, but not so much for website owners.
In addition to adding more load to your website, GA4 is much more difficult to understand. The GA4 analytics dashboard has a frustrating user interface that requires taking a training program just to navigate its menus.
When considering these reasons and the many other downsides to using Google Analytics, Plausible is a much better analytics platform you can use to gather insights and user data. Let's take a closer look and find out why.
What Is Plausible?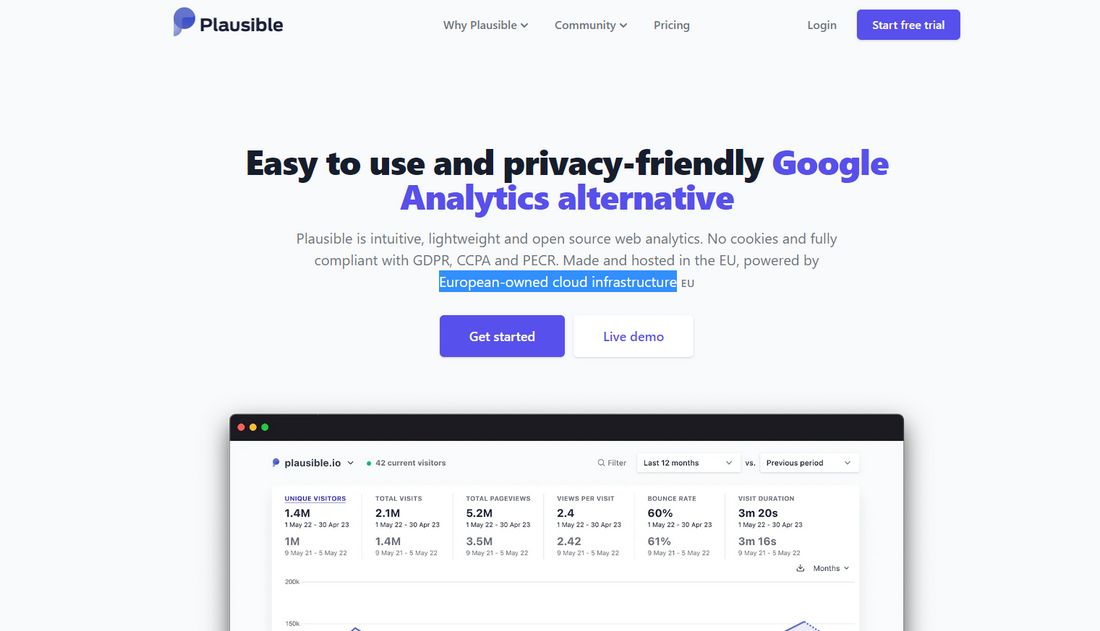 Plausible is a web analytics platform created by an independent company. It's open-sourced and self-funded, offering a way to track your website visitors without invading their privacy.
Unlike Google Analytics, Plausible has a very beginner-friendly dashboard where you can gather all insights in one place and actually understand them without having to go through dozens of tutorials.
Even though it's managed by a small independent company, Plausible already has over 10,000 active subscribers and it's being used by over 130,000 websites, including companies like Basecamp, Prezly, and ElementaryOS.
Main Features of Plausible
What makes Plausible better is its simplicity. The way it handles data in a privacy-friendly way and then presents the data to you in a minimalist dashboard is the best part of using Plausible.
That doesn't mean it lacks good features. Here are just a few great features and benefits of Plausible.
It's Simple and Easy to Understand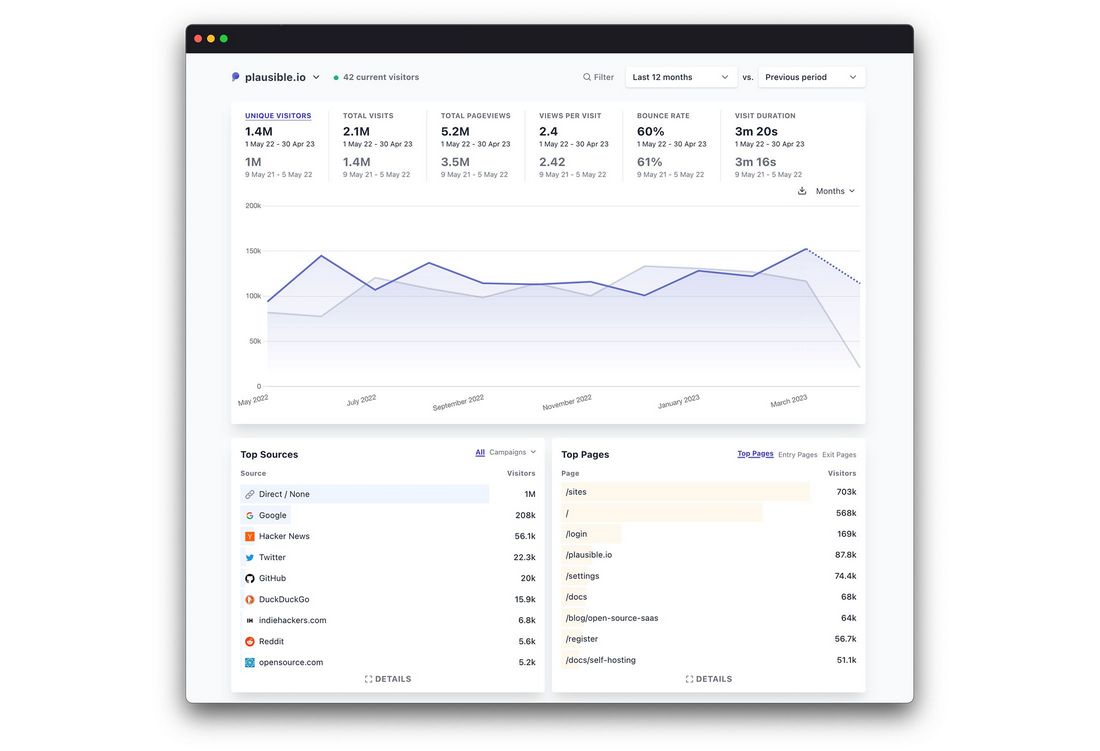 Understanding and viewing your analytics data in Google Analytics 4 is extremely frustrating. You have to at least go through three to four menus and be patient with its loading times just to view some basic stats about your website. Someone who's new to the platform will have to watch a few training videos before understanding any of it.
In comparison, Plausible offers a much more simplified way to view your website analytics. The dashboard and the user interface have a straightforward view of the website statistics at a glance, all on one page. And even someone with no experience can easily understand it.
It's Very Lightweight
With so many different ways and things to track and gather user data, the GA4 script takes a big toll on your website loading times, which ironically also affects Google search ranking.
With Plausible, you can greatly improve your website loading times as it has a lightweight script that has a much smaller impact on your page loading speeds. According to Plausible, their script is 45 times smaller than the script used by Google Analytics.
And it's environmentally friendly too. The company claims that it will help save 4.5 kg of CO2 emissions per year if you have a website that generates 10K monthly visitors.
No Cookies and Privacy-Friendly
Google uses some privacy-invading methods to track website visitors. As a result, many websites have to show cookie consent messages with detailed privacy terms to every person that comes to their site.
Thankfully, you can get rid of all those cookie notifications from your website after switching to Plausible. This platform collects user data anonymously and it does not collect any personal data. This means there's no need to have a cookie consent notification.
GDPR, CCPA, and PECR Compliant
Plausible is a company that operates and is hosted in the EU. They even use European-owned cloud infrastructure to power up the platform.
It makes the platform compliant with some of the most important data and privacy protection laws in the world, including the General Data Protection Regulation (GDPR) in Europe, the California Consumer Privacy Act (CCPA) in the US, and the Privacy and Electronic Communications Regulations (PECR) in the UK.
Transparent and Open Source Development
As an independent company, Plausible keeps its development transparent and open-sourced. It even has a public roadmap of features that are being added to the platform. Users can take part in this progress and share their ideas too.
Plausible is a self-funded and bootstrapped company. It has no affiliation with third-party companies to sell or share your data.
Skip Ad-Blockers
Since Google Analytics script uses ad tech tracking systems, it often gets blocked by AdBlockers. As a result, the website visitors who use AdBlockers will not be tracked by your analytics.
With Plausible, you won't have to worry about that issue as the platform does not use any ad tech tracking to gather user data.
How Much Does It Cost?
Plausible uses a simple subscription-based pricing model that charges you based on the number of visitors you get.
It's $9 per month for websites with up to 10K visitors. $19 per month for websites with 100K visitors. $29 per month for 200K visitors. And so on. You'll get 2 months free with annual billing.
No matter how much you pay, you will be able to host up to 50 websites, have unlimited team members, email and Slack reports, custom events, and much more.
Should You Use Plausible?
It's clear that we are in desperate need of a good and simple analytics solution to replace Google Analytics. And Plausible is one of (if not) the best options we have right now.
With Plausible, you can make your website more user-friendly, get rid of those annoying cookie consent notifications, and even improve page loading times. All the while enjoying analyzing website insights on a simple dashboard.
Google Analytics may be free, but it has hidden costs and consequences that you should not have to deal with. Paying a small subscription fee to integrate Plausible is a much easier and better way to have peace of mind and enhance your website at the same time.